Ignite Your Profit Engine

Learn how EcoStruxure Foxboro DCS helps process plants consistently deliver measurable operation profitability improvement safely, enabling 100% ROI in less than a year.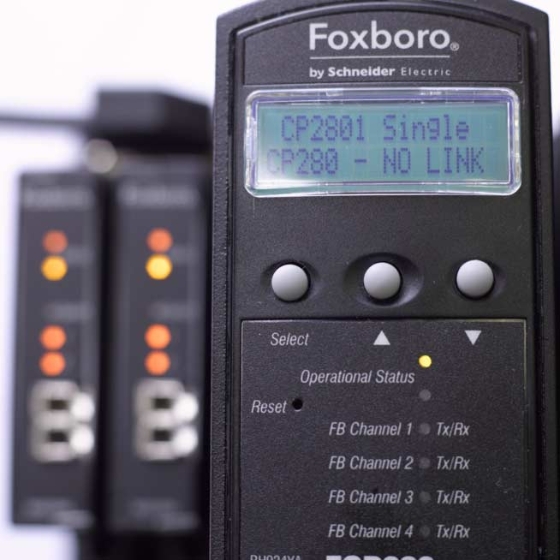 Resources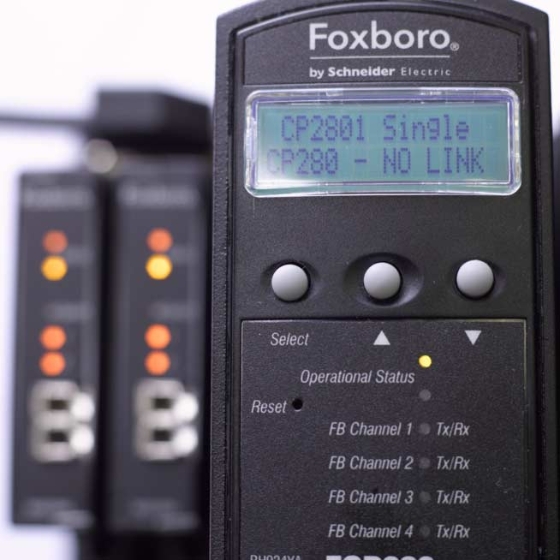 Features
Packed with state-of-the-art OT technologies like Dynamic SAMA, Engineer Anywhere and Control Anywhere capabilities, Visualization and Situation-Awareness functionalities, and the latest IT technologies in mobility, cloud and analytics, the Foxboro DCS is architecturally optimized for Smart Design and Flexible Engineering reducing capital and operating expenses, protecting operational integrity while enhancing decision making, problem resolution and workflow.
With unified control and safety through integration with the industry-leading EcoStruxure Triconex safety systems, the Foxboro DCS provides a powerful platform to turn your industrial automation into the Profit Engine of your business, driving measurable operational profitability, safely.
Benefits
• Future-proof technology preserves your investments
• Customizable, embedded real-time accounting models measure and control financial value of every point of the process
• Drives measurable operational profitability at every level of the industrial enterprise
• Delivers 100% ROI in less than one year
EcoStruxure Foxboro DCS technology platforms
Controller & I/O

Workstations

Network / interfaces

Operations

Engineering

Historian

Asset Management

Advanced applications
The Foxboro DCS family of fault-tolerant, highly available components collect, process and disseminates valuable information to every corner of the plant. With flexibility and scalability in mind, the Foxboro DCS offers multiple types of controllers and I/O options to optimize cost, space and functionality requirements.
The Foxboro DCS features state-of-the-art, multi-purpose workstations and servers which are versatile and robust, with different options catering for different plant environments and operation requirements.
Workstations & Servers

Pre-configured on secure, state-of-the-art, multi-purpose workstations and servers

Industrialized Workstations & Servers

Magelis iPC line offers industrialized, powerful, secure workstation options to help ensure the operational integrity of your plant

Virtualization & Thin clients

Experience true operational agility and production schedule integrity throughout your system's lifecycle with virtualization technology

Annunciator Keyboards

Annunciator keyboards easily and effectively organize alarms and process display for faster operator response and resolution times

Monitors

State-of-the-art process visualization designed for utmost user safety, security and productivity
The Foxboro DCS control networks and interfaces provides scalable, robust connections between field, plant and business systems that put critical information in your hands to make timely decisions that impact your business.
Control Network

Control network leverages advanced commercial communications technologies in robust industrial configurations

Netsight Console

Netsight console from Extreme Networks provides a wide selection of advanced networking management and analytic tools

Control Network interface

Operate multiple EcoStruxure Foxboro DCS as one system

Modicon connectivity

With a Schneider Electric intelligent interface between EcoStruxure™ Control Expert (formerly known as Unity Pro) and Foxboro control editor, you can configure Modicon PLCs from a Foxboro DCS automatically

Triconex connectivity

The market-leading EcoStruxure Triconex Safety Systems can be integrated into EcoStruxure Foxboro DCS for improved security, reliability, availability and performance

Power connectivity

Schneider Electric's intelligent power and motor control center (iPMCC) approach blends process automation and energy management to enable safer, more reliable, and more cost-efficient energy use
The Foxboro DCS is equipped with advanced features and elevated human elements of Human-Machine Interface (HMI) which delivers intuitive configuration, accelerate fault-finding, speed up engineering and consolidate critical information, ensuring flawless, continuous operation.
Operator performance HMI
Operators no longer need to sacrifice their panoramic views of production activities to interact with them digitally
Situational Awareness Libraries
Get the context you need to make informed decisions at the speed of your process
Alarm Management and Shelving
Reduce the number of nuisance alarms that may interfere with normal plant operation
Operator Training
Operator Training Simulators (OTS) are advanced computer-based training tools that help give operators the skills they need to run a process or plant
Foxboro DCS proven advanced, cloud‑based engineering tools and virtualization technology fast-track greenfield implementations and system expansions, minimizing risk and ensuring peak long-term performance.
The Historian provides a robust, single-software infrastructure for enterprise-wide collection, storage, and retrieval of historical process information. Designed and optimized for use with the Foxboro DCS historian client, it enables trend analysis and reporting that guide intelligent troubleshooting, and help identify opportunities for cost savings.
Historian
A single-software infrastructure for storing and reporting industrial data.
Historian Client
Historian client provides the interface for data stored in EcoStruxure Foxboro DCS client.
Improve plant uptime with real-time highly contextual device diagnostics and predictive maintenance capabilities, plus faster time-to-production with simplified device commissioning and replacement with Schneider Electric's Asset Management solutions.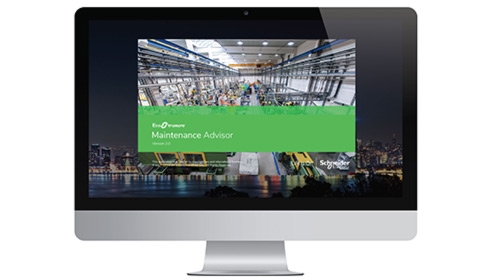 EcoStruxure Maintenance Advisor
IIoT platform for condition based maintenance and decision support, enabling profitable operations.
Field Device Manager
Configure, commission, maintain and diagnose your field devices throughout their entire lifecycle
Improve productivity and profitability for production, manufacturing and infrastructure industries. Schneider Electric advanced application software and solutions help you deliver sustainable performance with flexibility and agility to address evolving market requirements.
SimSci™
Process simulation and design Tools
Avantis™
Enterprise asset performance management
Wonderware™
Industrial information and operation management solutions
> 12/10/2018 - EcoStruxure Foxboro DCS is the DCS of choice against cyber attacks and what steps you can take to protect your plant
> 08/08/2018 - Schneider Electric improves time to production, reduces device commissioning time with EcoStruxure Field Device Expert
> 07/08/2018 - Next-Generation EcoStruxure Foxboro Control Software future-proofs industrial operations and enables substantial operational improvements
> 05/06/2018 - Schneider Electric's EcoStruxure Foxboro DCS enables faster time to profit for Dow Corning
> 29/08/2017 - Schneider Electric to help drive Safety, Reliability and Operational Profitability for Nigeria's Dangote Oil Refinery Ltd
> 23/08/2017 - EcoStruxure Foxboro DCS evolves
> 31/01/2017 - Schneider Electric Enables Smart Control with EcoStruxure Control Advisor Software
Documents and downloads
Access offer documentation, support information, certificates, customer references...
Automation services
Maximize your business infrastructure in order to face increasingly stringent demands on productivity, safety, equipment availability, and performance optimization.
Chat
Do you have questions or need assistance? We're here to help!