CBGS-2
Gas-Insulated Primary Switchboard up to 52 kV
Part of Set Series
SF6 insulated metal-enclosed switchgear up to 52 kV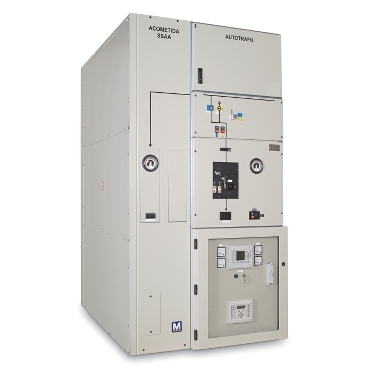 Features

Each functional unit consists of separate compartments:

. LV cabinet

. Busbar compartment . Main compartment (SF6 insulated)

. MV cable compartment

Performances:

. Technology:SF6

. Standard:IEC . Rated voltage: 52kV (three-phase) - 2x27.5kV (two-phase) - 1x27.5kV (single-phase)

. Busbar system: Single / Double

. Rated current busbar: 2500A

. Rated operational current: 2000A

. Rated peak withstand current: 25kA

. Internal Arc Classification: AFLR 25kA/1s

. Loss of service continuity: NA

. Partition class: NA

Contractual warranty

Period : 18 months

Benefits

Maximum safety in a reduced space

Continuity of service: unaffected by the environment, double busbar option, sealed-for-life compartments, reduced gas pressure

Maximum safety: operating safety (interlocks), IAC tested

Investment optimisation: space savings, maintenance savings, etc.

Applications

Indoor substation (HV/MV-MV/MV) for Power Supply Utilities, Windfarms, Airports, Traction substations (1x27.5 kV and 2x27.5 kV available – 250kV BIL), Large industries, etc.