Exiway Smartduo
2400 lumens with concentrated beams for high ceiling installation or special application as high risks area. Activa (Sati France)and DiCube version
The powerful solution for large and high risks area thanks to the high power LED.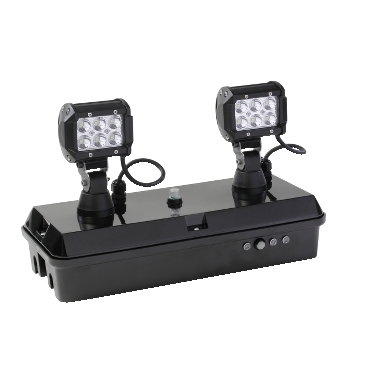 Features

Smartduo is dedicated to places with high ceilings and roofs, to large areas and to tough environments as operating machineries.


With an exceptional 2400-lumens lighting power, it can illuminate places where there is no other reasonable possibility.


Very well designed, it can be installed horizontally or vertically and the two headlights can be oriented in the right direction. It lights up in less than 0.5 seconds.

IP65 compliance for outdoor installation.

Made with high-quality durable material and components.




The powerful solution for large areas


Main features


Up to 2400 lumens!

Two searchlights rotate from 90° to 45°

Very robust, suitable for rough environments

Certified by independent organizations: NF

Range description


7 product references

Available in: Standard, Activa (SATI France) and DiCube with retrofit Dardo

Two bulbs with high lighting performance

Only one product size

Technical information


200, 400, 1050, 2400 lm

IP 65, IK 07

Non-maintained mode

1 & 3 h battery autonomy

Compliant with EN 60598-1, EN 60598-2-22, EN 62034, IEC-TR 62778 Group 2

Benefits


Very high performance and quality
Incredible 2400 lumens
Nominal emergency flux reached in less than 0.5 second

Applications


A range specially designed for premises with high ceilings: workshops, warehouses, sports facilities...
Developed to ensure safe evacuation of all buildings and high risks areas.