Acti

9

iPRD
Surge Protection Devices Type 2 or 3, from 8 kA to 65 kA
Part of 9 Series
Modular surge arresters Type 2 with withdrawable cartridges, from 8 kA to 65 kA, recommended for incoming and secondary protection, compliant with IEC/EN 61643-11:2011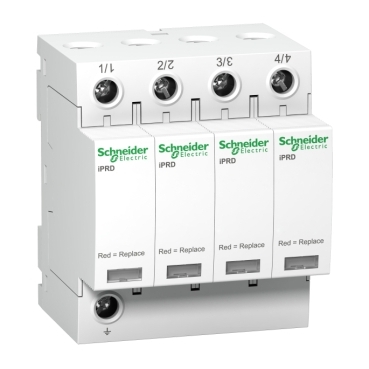 Features

Acti9 iPRD Type 2 and 3 modular Surge Protection Devices

protect the electrical equipments against the indirect lightning strikes.

The use of Surge Protection Devices is recommended in the case of non-critical power installations.

They are tested and rated according to the standardised current wave of 8/20 µs.

With exclusive features,

Acti9 iPRD

DIN rail

Surge Protection Devices

are geared to protect your equipments from indirect lightning strikes and improve the continuity of service.

Certified for short-circuit current withstand,

Isc up to 50 kA

(IEC 61643-11: 2011).

The maximum discharge current covers from

8 to 65 kA

.

The maximum continuous operating voltage

Uc is 350 VAC or 460 VAC

.

They are suitable for any earthing system:

TT, TN-S, TN-C and IT

.

Withdrawable cartridges of Acti9 iPRD Surge arresters allow quick replacement of damaged devices.
It is possible to use multipolar or unipolar products for serial assembly.
The Acti9 iPRD surge arresters "r" version have dry contacts for transfering remotely the end-of-life information.

The Acti9 iPRD8 Type 3 is placed in cascade near the loads to be protected.
They should be installed in the secondary panel board, as soon as the distance from the incoming surge arrester is more than 10 meters, to ensure secondary protection.

Benefits

Improved continuity of service and safety of your equipments thanks to:

Class 2 insulation: continuous safety for operators and unqualified personnel
VisiTrip™: quickly detects the defects of protection against the surges and reduces intervention time
Certified back-up protection coordination with disconnecting circuit-breakers
The robustness of the connections
Remote monitoring of protection device state (additional feature).

Applications

Acti9 iPRD Type 2

Surge Protection Devices protect the electrical installations in all

industrial and tertiary buildings

against induced or conducted surges caused by indirect lightning strikes.

These

Type 2 Surge Protection Devices

can be used also for the

protection of residential installations:


In every new house without a lightning rod (primary protection) it is now mandatory to install in the electrical switchboard a Type 2 Surge Protection Device to reach the IEC 61643-11: 2011 standard
In a building with a height greater than 10 meters, with several dwellings, if a Type 1 surge arrester is installed in the main electrical switchboard, a Type 2 surge arrester must also be installed at the head of each divisional switchboards in order to distribute the constraints
This complementarity of the protections is mandatory to meet the IEC 61643-11: 2011 standard.