Vamp 50 Series
Protection for LV and MV feeders and motors
VAMP 50 series offers a comprehensive selection of modular protection relays for overcurrent, earth fault, voltage, frequency and line differential protection. Models available: VAMP 50, VAMP 52, VAMP 55, VAMP 59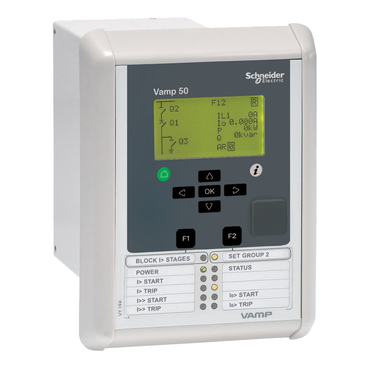 Features

Schneider Electric's VAMP 50 series product range is highly flexible and meets the protection and control needs of a number of power systems, from simple overcurrent, to busbar voltage or line differential applications. Featuring native IEC 61850 and VAMP's unique arc flash protection, the VAMP 50 series is designed around proven technology concepts and developed in close cooperation with customers, making it both reliable and modern. VAMP 50 series also introduces a complete set of measurement functions including line and residual currents, current imbalance, system frequency and harmonics, replacing conventional metering functions in switchgear and controlgear installations. User-friendliness is a designed-in feature of VAMP products and the VAMP 50 series is no exception with a large LCD display, programmable function keys and easy-to-use VAMPSET software.

Standard Manufacturers Warranty: 2 years

Benefits

Robust with flexible hardware
Modular designs suitable for demanding industrial conditions with versatile hardware expansion for communication, digital input/output extension and automatic adaption of new and removed hardware without need for firmware modification.
Universal technology for cost-efficiency
Contains a powerful CPU supporting native IEC 61850 and can be enhanced with any one of VAMP's universal platform accessories.
Ultra-fast arc flash protection
Pioneering and ultra-fast arc fault functionality adds a new dimension to the total safety of the installation and the reliability of the protection and control system.
User-friendly and high functionality
Common firmware platform across the VAMP 50 series, large and clear LCD display featuring single line diagram mimic with control, indication and live measurements, programmable function keys and LEDs, a standard USB connection (type B) and easy-to-use VAMPSET software for settings.
Flexible casing system
Slimline casing option ensures adaptability for a variety of settings where space is limited or a horizontally mounted protection relay is needed. VAMP 50 series is also available with an optional withdrawable case.

Applications

VAMP 50: Low and medium voltage feeders in industrial and utility applications with optional arc flash protection and for back-up protection.
VAMP 52: Low and medium voltage feeders in industrial or utility applications with optional arc flash protection. Extensive thermal protection functions make this relay optimal for low and medium-sized asynchronous motors. In feeder configuration mode, autoreclose and directional earth fault are also available.
VAMP 55: Frequency and voltage protection for both utility and industrial applications and also for synchro check applications.
VAMP 59: Line differential protection in medium voltage systems including overhead lines and cables with optional arc flash protection. Intermediate power transformers can be applied within the protected zone.