Thorsman work lamps
Professional range of work lamps
When the sun goes down, the work lamps wake up – to stand, hang, lie … for big jobs, small jobs, and everything in-between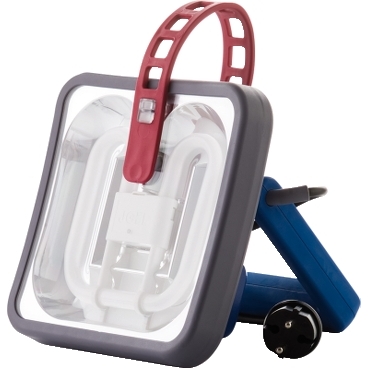 Features

In order to fit with demanding professional craftsmen needs and DIY enthusiasts, the range offers 4 different lamps:

Type 100: Small, handy and light, this lamp is flexible and easy to use. Type 100 is made for use where space is tight, where concentrated working light is needed in small areas like electrical distribution boards, attics and cellars.
Type 250: This lamp meets all your needs for professional, reliable, neutral working light when you need to illuminate large surfaces in the entire room (such as when painting, doing carpentry or electrical work)
Type 250+: Same features as Type 250 with some additional important details: a pair of electrical sockets on the back, enabling you to plug in electric tools or connect several Thorsman worklamps in serial. You can turn off the lamp without cutting power to units that are plugged in to it.
Type 38: used today to produce effective lighting at countless workplaces-whether they are sporting halls, building sites or shipyards.

Benefits

Robust: made from blow-resistant materials coated with shock-absorbent rubber. They are double-insulated, eliminating the risk of electric shocks. They also come equipped with an oil- and acid-resistant neoprene cable. So they can be used outdoors and in all kinds of harsh conditions.
Economical: The lamps use energy-saving fluorescent bulbs which last an average of 8000 to 10000 hours before they need changing.
Effective: Thanks to its low energy consumption, the light emitted is referred to as "cold light". Because it never gets hotter than lukewarm, a Goliath lamp can be used right up close to flammable materials and surfaces.
Flexible: Thorsman work lamps 100, 250 and 250+ are equipped with a patented suspension strap that lets you place, hand, lay, fasten, and transport them in a thousand different ways that make your work easier.

Applications

Thorsman worklamps are for any kind of workplace, in any kind of weather and in any situation: in or outdoors, up or down, vertically or horizontally, far away or right up close, for big things or small,…
In the Thorsman work lamps range, different types of plugs are available. Plenty of accessories and spare parts are available.