Lisse
Curves in all the right places
The Lisse range is available in both white moulded urea and metal finishes, and offers a perfect blend of performance and contemporary style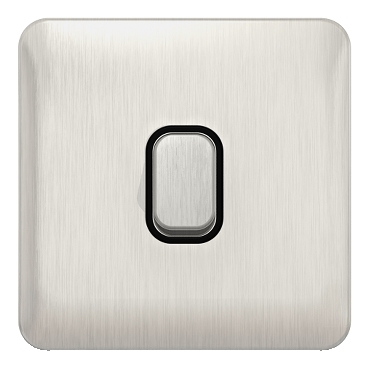 Features

Lisse Screwless Deco is a stylish wiring device range based on a stainless steel design.
This range is aesthetically pleasing, thanks to a screwless design that features smooth contemporary edges. Lisse Screwless Deco also features a clip-on front fixing plate which facilitates painting and decoration work. This metal-based range is available in a variety of stylish, contemporary finishes including:

stainless steel
polished chrome
satin brass
mocha bronze

Lisse White Moulded is a modern, stylish wiring device range that features soft shapes and corners, and is based a white urea finish for a look that complements contemporary interiors perfectly. The Lisse White Moulded range offers a large selection of wiring device functions, making it suitable for a wide range of applications. Another key benefit is that its front plates are made from high-quality thermoset urea - which features anti-bacterial properties and is highly resistant to fading, discoloration and scratches.




Benefits

For End Users:

Available in white moulded urea and now in metal finishes
A contemporary, stylish range that features smooth corners and edges
Offers a wide range of solutions for residential spaces, commercial offices, and hotels
LED indicators provide subtle but elegant illumination
Features convenient home accessories such as handy shelf frames, and a clip frame surround that incorporates a handy hook
A comprehensive selection of dimmers that cover mains, low voltage, LED, as well as 1-10V
Includes innovative and practical products such as USB charging solutions that are available in one or two gang combined USB sockets, charger outlets, Euro Modules and grid modules

For Installers:

A wiring device range that is based on efficient and logical product ordering, and one that features a wide range of time and space-saving solutions
Strip length indicator to facilitate wiring installations
Compact mechanisms for maximum wiring space
Backed out and captive terminal screws for ease of installation
Neutral loop terminal on plate switch
Large angled terminals for easy access, accommodating up to 3 x 2.5 mm² cables
Optional LED status indicator that clips securely onto back of plate for added flexibility
Ideal for retrofits and other applications where backbox space is limited
One and two gang spacers where extra installation depth is required
Dual earth terminals for installations that require high integrity earthing - available on all 13A socket outlets
Double Pole Switch Socket available
Independent test certified

Applications

Lisse light switches are ideal for residential, hotel and commercial installations, for both new builds and renovations.

The Lisse range is designed for British Standards markets.