Resi

9

CX Enclosures
Residential Electrical Enclosures
Part of 9 Series
A stylish, easy-to-install wall-mounted electrical enclosure that complements any living space, thanks to its new design and customizable door.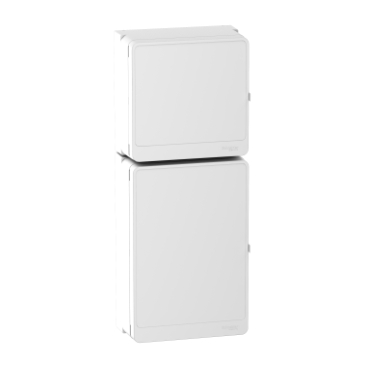 Features

Resi9's indoor plastic enclosure features 1 to 4 rows, and is designed for the execution of sub-distribution switchboards and multimedia applications for residential units and small service sector buildings.
Stability and ease of installation
Removable DIN Rail for easy wiring
Modular capacity of 13 or 18 modules per row
Universal grid for multimedia applications
Separate door with several design finishes
Rail DINs may be dismounted one by one, for improved accessibility.
Earth and neutral screw-less terminal blocks are provided for easier on site wiring.

Benefits

A rigid chassis offers great rigidity for an easier integration.
Terminal block: neutral/earth terminal block allows optimized cable connection.Terminal block is attached to the base by snap-on mounting.
The terminals ensure a reliable, permanent connection. They are designed for rigid conductors or flexible conductors with end-piece, from 1.5 to 2,5 mm2, (with plug in), and from 6 to 25mm2, (with screw).
Removable DIN rails: DIN rails can be dismounted once the enclosure is fixed onto the wall, making cable management easier during installation.
Color options for doors: Doors are reversible and are available in both white and transparent finishes.
Doors are magnetic, which makes them perfect for personalizing them by displaying your latest postcards or shopping lists using a standard fridge magnet
Universal grid: For an easier installation of any media component
BackPlus- the new insulation plate: With the new Backplus, with Class 2 insulation, you have 2 benefits. It makes cabling easy allowing you to arrange cables to your exact requirements . Additionally, once theBackplus insulation plate has been mounted on the wall, the chassis can be easily mounted onto the Backplus without the need for tools, making installation easy.

Applications

Residential and Small Service sector : The appearance of this enclosure, its mechanical strength and its level of electrical safety make it a product fully suitable for residential and small service sector needs.