Lexium

62 ILD & Motors
Detached servo drives and motors for PacDrive 3 automation solutions
Part of Lexium
Detached servo drives for PacDrive 3 based automation solutions with servo motors or AC motors with rated current up to 6 A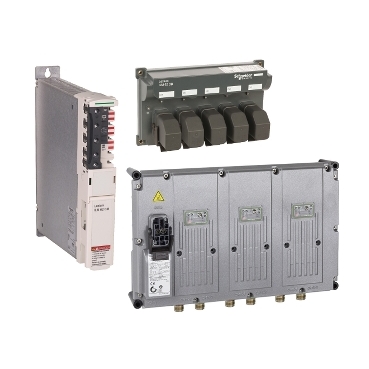 Features

The Lexium 62 ILD detached servo drives are part of the Lexium 62 multiaxis servo approach for PacDrive 3 based automation solutions. They are supplementing the Lexium 62 cabinet based drives and the Lexium 62 ILM integrated drives by a new option: Lexium 62 ILD are fully integrated in the Lexium 62 ILM network infrastructure and support as well the strategy of cabinetless automation. On the other side Lexium 62 ILD drives can be combined like Lexium 62 cabinet drives with Lexium SH3 and MH3 motors (up to a rated current of 6 A!) and they can operate as well with AC motors. Compared with Lexium 62 ILM this opens up additional degrees of freedom for creating flexible servo solutions for modular machines.

Lexium 62 ILD detached servo drives complies with the IP 65 degree of protection. The drives can be controlled with all PacDrive LMC motion controllers of the Pro and Eco series via Sercos communication. all main components of the system are equipped with electronic name plates. So the controller recognizes the drives and configures them automatically.

EcoStruxure Machine Expert tools are the base for engineering, commissioning and diagnosis of Lexium 62 ILD servo applications.

Two types of detaches are available

Lexium 62 ILD single drive for one axis
Lexium 62 ILD triple drive for three axes

By moving the servo out of the control cabinet and into the field, Lexium 62 ILD is reducing significant the efforts for the servo solution:

Plug & Play technology with pre-assembled hybrid cables
Up to 90% less wiring time
Up to 70% less cabling
Less wiring and cabling requirements in the control cabinet by up to 90%
Detached IP65 drive electronics unit, in comparison to Lexium 62 ILM more flexibility in the selection of motors
Quick interconnects and hybrid cables for signal and power level (same network inrstrucure as used for Lexium 62 ILM
Automatic network configuration
Diagnostic functions

Benefits

The Lexium 62 ILD detached servo drives can be mounted directly in the machine frame. This needs less space in the cabinet and permit modular design of mechanics, software and even electronics. It makes ILD servo modules a key element in modular machine design. Therefore Lexium 62 ILM is an ideal solution for machines with a variety of optional mechatronic modules.

Lexium 62 ILD is fully software compatible with Lexium 52 stand alone servo drives, with and with all drives and integrated drives of the Lexium 62 multi axis servo system. All together form the base for one of the most flexible servo drive solutions available on the market. The Fast Component Replacement concept with easy mechanical and electrical installation/removal, electric name plates in each drive for automatic configuring and as well the automatic motor detection offers your customers maximum reliabiltiy.

Applications

Lexium 62 ILD meet the typical requirements of production and packaging machinery, as well as material handling and assembly systems.