RealStream Lift Station
A fully configurable solution designed to operate and control lift stations on new and existing wastewater networks.
RealStream™ Lift Station Solution is a fully configurable sewage lift station controller with local display.Remote access is provided via DNP3 with optional Secure Authentication, or Modbus both via Ethernet and/or serial (232/485). System operational parameters including, total volume, cost/volume pumped, energy consumption and pump performance indicators are collected and can be displayed both locally and remotely. RealStream Lift Station can reduce time on site and over-flow conditions.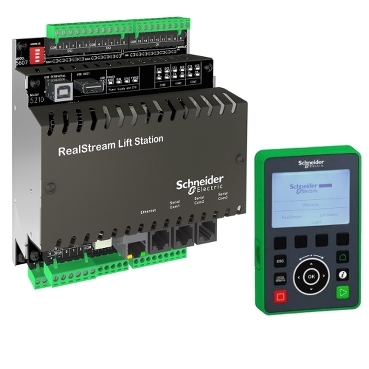 Features

• The RealStream™ Lift Station Solution brings the extensive Schneider Electric monitoring and control experience together with the proven SCADAPack™ E Smart RTU technology to address the on-going challenges of operating wastewater networks.

• Designed to reduce the total cost of ownership whether it is a stand-alone pump station for a recreational facility or a geographically dispersed, municipal wastewater network, the features and functionality embedded in the RealStream solution enable operators to help reduce costs across all levels of the operation.
– Maximizes Pump and Asset Life - Reduces water hammer, increases pump impeller longevity and limits infrastructure stress using advanced pump control and paired with smart variable frequency drives.
– Improves Energy Efficiency - Decreases overall required pumping head with dynamic wet well level control and variable speed drives.
– Increases Uptime – Uses pump condition alerts to fix possible issues before potential failure and leverages the multiple modes of operation to reduce unexpected service calls and environmental discharges. Advanced Lift Station Controls are available for de-ragging, fat-ring spreading, pipe scouring, and wet-well cleaning.
– Improves Station Performance – Pro-actively monitors the efficiency and cost of each station to inform performance based maintenance and the optimization of capital expenditures.
– Helps Meet Environmental Regulations – Helps to avert environmental discharges through self-diagnostics and early alerts, and meet environmental regulations through pro-active management.



Benefits

Ease of Use
• The solution supports multiple SCADA hosts and as a fully configurable system, no programming is required. Operators can manage the network using standard lift station solutions, operator loadable configurations and simple site swap-outs. One click updating and deployment is available when paired with SCADA Expert ClearSCADA™ software.

Secure, Remote Access
• Data logging and local display give access to operational parameters such as total volume and pump performance on site, with remote access available through DNP3 with optional Secure Authentication or Modbus both via Ethernet and/or Serial (232/485).

Easy Installation
• The RealStream Lift Station can be adapted to multiple system configurations with easy installation options available for new and retrofit applications.

Applications

• Wastewater
• Wastewater networks
• Wastewater management
• Pump station automation
• Pump control
• Sewer collection
• Environmental monitoring
• Storm water