Addressable emergency conversion kits for luminaire
EVX Ferro Dardo, EVX Power Dardo
End-of-Sale Notice
-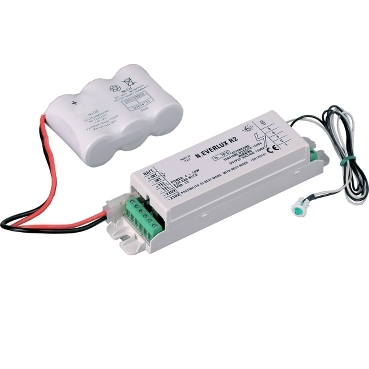 Features

Convert ordinary fluorescent light fittings into self-contained emergency light fittings. Compatible with many tubes. Invisible, they are concealed in the fluorescent tube light fitting.
These devices power the standard fluorescent lighting in the event of a mains failure to provide a sufficient lighting level. As a result:

all panic is avoided
the path and obstacles are made visible for movements in complete safety.
Each product includes a battery and a converter. It is able to power a normal fluorescent light fitting at a reduced luminous flux for one hour or more.

Benefits

Many ranges to match all your needs perfectly

Adapted to all building types, these emergency lighting ranges are one of the essential stand-by devices guaranteeing safety of occupants.
They prevent panic movements in the event of serious problems (fire in particular).
Simplicity
The light fittings guarantee safety of people in buildings open to the general public.
By combining Teleur type remote controls with the kits, the battery charge is preserved.
Safety
Automatically actuated in the event of power cuts, these devices (kit + light fitting) offer a good luminous flux to facilitate the evacuation.
They comply with European standards EN 61 347-2-7 and offer a high level of quality and safety meeting the various prevailing regulations.

Applications

A range dedicated to all public premises: hotels, offices, schools, all shops, etc.
Developed to ensure safe evacuation of all buildings.