Acti

9

CDS
Load shedding contactors
Part of 9 Series
The Acti9 CDS load shedding contactor helps avoid breaking of the main circuit breaker when power consumption exceeds the selected threshold. Designed to be easily installed into an electrical switchboard, the load shedding contractor helps to reduce bills whilst increasing the number of loads that can be managed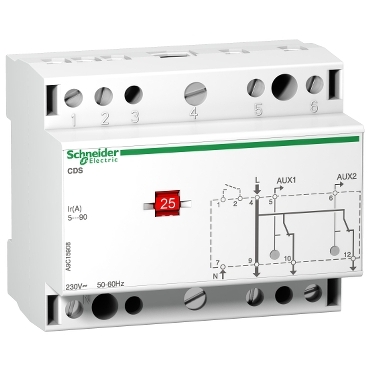 Features

With priority channels adjustable from 5 to 90 A and a helpful LED indicator to inform you when load shedding occurs, the

Acti9 CDS load shedding contactor

provides flexibility and enhances the continuity of supply.

CDS products avoid breaking of the main circuit breaker when power consumption exceeds the power subscribed by the consumer
As soon as the total current drawn exceeds the pre-set threshold, the contactor will temporarily break supply to the circuits considered to be non-priority
Priority channel adjustable from 5 to 90 A, non-priority channels 15 A
Voltage rating - single phase: 240 V A + 5 % - 10 %, 3-phase: 415 V AC + 5 % - 10 %
Frequency: 50 /60 Hz
LED to indicate installer when load shedding occurs
Restoration period: 5 to 10 mn
Option to override with a load shedding override input
1 A rating NO contact allowing remote indication of load shedding or direct load shedding via a NC contactor.

For more of the

Acti9 CDS

range see the following products:

Acti9 CDS: single-phase load shedding of 2 circuits in cascade mode

Acti9 CDS: 3-phase load shedding (one circuit on each of the 3 phases)

Acti9 CDSc: single-phase load shedding of 4 circuits in cascade-cyclic mode.

Benefits

Suitable for residential and commercial buildings, the

Acti9 CDS load shedding contactor

provides a reduction in energy bills, enhanced continuity of supply and expert management of load shedding.

Reduces electricity bills through the reduction of subscribed demand
Increases the number of loads that can be managed, without increasing subscribed demand
Enhances continuity of supply: as soon as the power consumed by the installation approaches the power set on the product, Acti9 CDS shed non-priority loads in cascade.

Applications

Specially designed for residential and commercial installations up to 36 kVA, the

Acti9 CDS load shedding contactor

is not only easy to install, but effectively reduces electricity bills whilst ensuring enhanced continuity of supply.

Reduction of electricity bills by authorizing reduction of subscribed demand
Installed in the electrical switchboard, the load shedding contactors are designed to be implemented by an electrical contractor.