View all
Sepam Series 80 NPP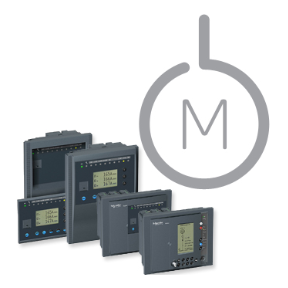 59736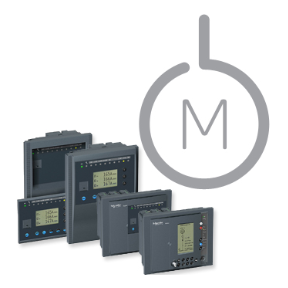 Add to My Products
Remove from My Products
The maximum number of products that can be compared is 4
---
Main

| | | |
| --- | --- | --- |
| relay application | Motor | |
| range of product | Sepam series 80Sepam series 80 NPP | |
| device short name | M81 | |
| control and monitoring type | Circuit breaker/contactor control ANSI code: 94/69 (option)Latching/acknowledgement ANSI code: 86Logic discrimination ANSI code: 68 (option)Switching of groups of settingsAnnunciation ANSI code: 30Logipam programming (ladder language) (option)Logic equation editor 200 operatorsLoad shedding/automatic restart | |
| metering type | Positive sequence voltage Vd/rotation directionFrequencyCalculated active and reactive energy (+/- W.h, +/- VAR.h)Active and reactive energy by pulse counting (+/- W.h, +/- VAR.h) (option)Phase current I1, I2, I3 RMSDemand current I1, I2, I3Peak demand current IM1, IM2, IM3Measured residual current I'0Voltage U21, U32, U13, V1, V2, V3Residual voltage V0Negative sequence voltage ViActive power P, P1, P2, P3Reactive power Q, Q1, Q2, Q3Apparent power S, S1, S2, S3Peak demand power PM, QMPower factorTemperature (16 RTDs) (option)Rotation speed (option)Neutral point voltage VntMeasured residual current I0, calculated I'0∑ | |
| network and machine diagnosis type | Unbalance ratio/negative sequence current IiDisturbance recordingThermal capacity usedRemaining operating time before overload trippingWaiting time after overload trippingRunning hours counter/operating timeStarting current and timeStart inhibit time, number of starts before inhibitionTripping contextPhase fault and earth fault trip countersHarmonic distortion (THD), current and voltage Ithd, UthdApparent positive sequence impedance ZdApparent phase-to-phase impedances Z21, Z32, Z13Phase displacementDatalog (DLG)Motor start report (MSR)Motor start trend (MST) | |
| switchgear diagnosis type | Cumulative breaking currentCT/VT supervision ANSI code: 60FLTrip circuit supervision ANSI code: 74 (option)Auxiliary power supply monitoringNb of operations, operating time, charging time, nb of racking out operations (option) | |

Complementary

| | | |
| --- | --- | --- |
| type of measurement | EnergyRotation speedPeak demand powerPower (P,Q)TemperatureCurrentFrequencyHarmonic distorsion (I THD & U THD)Power factorVoltage | |
| protection type | Thermostat / buchholz ANSI code: 26/63 (option)Phase undercurrent ANSI code: 37Starts per hour ANSI code: 66Neutral voltage displacement ANSI code: 59NBreaker failure ANSI code: 50BFDirectional earth fault ANSI code: 67N/67NCOvervoltage (L-L or L-N) ANSI code: 59Temperature monitoring (16 RTDs) ANSI code: 38/49T (option)Thermal overload for machines ANSI code: 49RMSExcessive starting time, locked rotor ANSI code: 48/51LRField loss (underimpedance) ANSI code: 40Pole slip ANSI code: 78PSOverspeed (2 set points) ANSI code: 12 (option)Underspeed (2 set points) ANSI code: 14 (option)Directional reactive overpower ANSI code: 32QNegative sequence/unbalance ANSI code: 46Overfrequency ANSI code: 81HUnderfrequency ANSI code: 81LPositive sequence undercurrent ANSI code: 27DRemanent undervoltage ANSI code: 27RUndervoltage (L-L or L-N) ANSI code: 27Negative sequence overvoltage ANSI code: 47Phase overcurrent ANSI code: 50/51Earth fault/sensitive earth fault ANSI code: 50N/51NEarth fault/sensitive earth fault ANSI code: 50G/51GDirectional active overpower ANSI code: 32P | |
| communication port protocol | Measurement readout ( option ) : ModbusRemote indication and time tagging of events ( option ) : ModbusRemote control orders ( option ) : ModbusRemote protection setting ( option ) : ModbusTransfer of disturbance recording data ( option ) : Modbus | |
| input output max capacity | 42 inputs + 23 outputs | |
| communication compatibility | Modbus TCPIPIEC 61850 goose messageIEC 60870-5-103DNP3Modbus RTUIEC 61850 | |
| user machine interface type | Mimic-basedRemoteWithoutAdvanced | |

View more

Documents

Language

All Languages

2

English

1

French

1

Catalogue

Format

Size

Add to My Documents

User guide

Format

Size

Add to My Documents

Description

Manuel d'exploitation des relais de protection Sepam série 80

Technical FAQs

No results found.

Unfortunately, related FAQs are unavailable due to temporary technical issues. Please try again later.