Future ready for digital power distribution
Stay connected and avoid downtime with the EcoStruxureTM Power Device app and EcoStruxure software:

• Monitor and control with the EcoStruxure Power Device app: load levels, energy consumption, power quality, warnings, alarms, protection settings, and more 
• Receive timely remote notifications: event type, severity level, time stamp, etc.
• Understand root cause and restore power easily in the event of a trip with step-by-step guidance

The future is here. Be ready. Register below for updates and exclusive content, and learn how Schneider Electric is redefining power distribution with EcoStruxure Power.

Access new energy-saving capabilities with instant views of power consumption and Class 1 precision:

• First circuit breaker with embedded Class 1 power metering
• Third party certified power metering device (PMD-DD) complying with IEC 61557-12
• Enables building compliance with international energy-efficiency standards ISO 50001 and IEC 60364-8

Combine innovations to achieve optimal energy efficiency. Real-time power measurement means real savings. Click below for a white paper on real-time power measurement to enhance your power and energy management plans today.

Customize effortlessly anytime with digital modules:

• Unlock advanced functions for protection, measurement, diagnostics, and maintenance
• Customize anytime with additional digital modules from the GoDigital Store
• Upload instantly via USB connection with the MicroLogic X control unit without interrupting power or protection functions

Update your system at any time. With MasterPact MTZ smart circuit breakers, you can upgrade and tailor your system at any stage of the lifecycle.

Install seamlessly, configure quickly, commission easily:

• Easily update from MasterPact NT/NW to MasterPact MTZ: same breaking capacity, thermal properties, power connection, and footprint
• Integrate seamlessly thanks to embedded Ethernet connection, Class 1 power metering and simplified MicroLogic X control unit range
• Save time, ensure accuracy, and quickly configure through our self-guided Product Selector by clicking on "Discover the range" link below. Then, order your MasterPact MTZ online through the MySE platform
• Simplify commissioning and maintenance with EcoStruxure Power Commission software
• Customize and upgrade anytime with digital modules

Five steps to your optimal circuit breakers. Seamless. Fast. Ready. Our new digital experience makes it easy to design, retrofit, upgrade and operate your system with the MasterPact MTZ. Explore the different offers below.

Simplify your switchboard / electrical panel design and operation:

• Monitor and control remotely using any supervision system to carry out proactive maintenance and asset/energy management
• Simplify commissioning and maintenance with EcoStruxure Power Commission software
• Integrate seamlessly with Schneider Electric Smart Panels and EcoStruxure architectures

Upgrade your Smart Panels. Integrate seamlessly and improve uptime with Smart Panels and EcoStruxure energy and asset monitoring technologies.

Keep your electrical system online even in harsh environments:

• Mechanical performance suitable for large and demanding industries
• Electrical performance withstanding high levels of electromagnetic disturbances
• Designed for durability against severe temperatures and corrosive/chemical atmospheres

Maximize reliability of your equipment. MasterPact MTZ circuit breakers are built to withstand various disturbances and harsh environments.

For a better world, today and tomorrow:

• Total control over the environmental impact of equipment
• Compliant with all European and international regulations
• Green Premium product (REACH, RoHS, Product Environmental Profile, End of Life Instructions)

Make responsible decisions with ease. Get further environmental information about MasterPact MTZ and other products with our Green Premium ecolabel.

Secure your process by managing and maintaining your installation:

• Digital services through smart connectivity: permanent data monitoring of your equipment, condition-based maintenance, asset management, energy efficiency & power quality management
• Schneider Electric Life Cycle services: corrective maintenance, preventive maintenance, on site condition maintenance , ECOFIT™ modernization
• MasterPact MTZ associated services: assistance to commissioning and start-up, warranty extension, e-learning program

Get full peace of mind thanks to Schneider Electric services. Increase uptime and operational efficiency with MasterPact MTZ field services.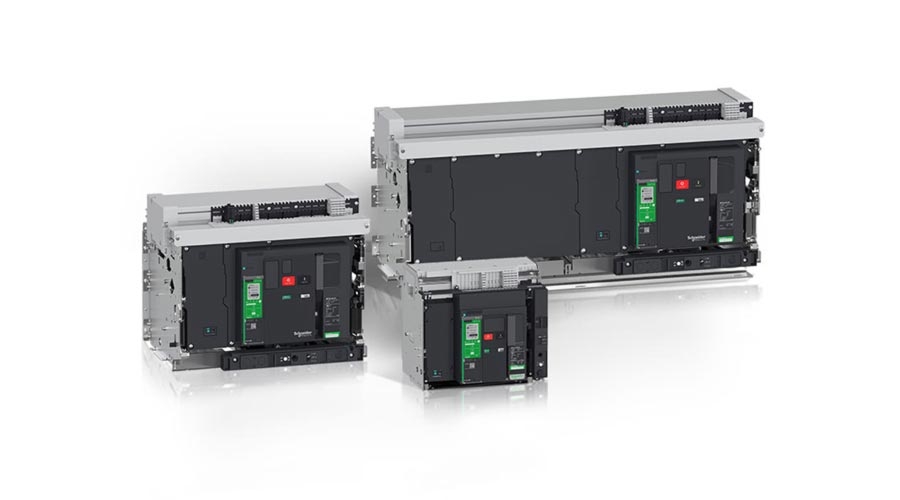 Future-proof your installation with our Pact Series
Built on legendary Schneider Electric innovation, the Pact Series comprises world-class circuit breakers, switches, residual current devices and fuses for all standard and specific applications. Experience robust performance with the Pact Series, a part of our EcoStruxure ready switchgear, from 16 to 6300A in low voltage and up to 40.5 kV in medium voltage.
Get more functionality with digital modules available on our GoDigital store.
Go green with Master
Pact

MTZ

Our Green Premium ecolabel brings complete environmental information to everyone, from homeowners, building managers, and architects, to our distributors and partners.

Learn more about our Green Premium