Moorfields Eye Hospital: Customer Story Key Figures
Improved staff productivity
Decreased operating expenses
Improved power monitoring for hospital operating theatres
Smart Building e-guide
Discover how you can leverage the IoT to create smart buildings that unlock value.
Helping the eye-experts focus

Bringing new life to an ageing infrastructure

EcoStruxure for Healthcare enables Moorfields Eye Hospital to bring patient safety and operational resiliency to a new level thanks to innovative building management and power monitoring solutions.
Discover EcoStruxure
Learn how your business can achieve success with EcoStruxure: Innovation at Every Level.
• The hospital is over a century old and the ageing infrastructure needed updating.

• Several older but valuable building systems needed to be integrated into a centralised platform.

• With a worldwide reputation to uphold, the hospital could not afford major disruptions.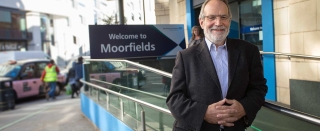 Resiliency, Efficiency and Patient Safety with Ecostruxure for Healthcare

Edge Control: EcoStruxure Building Operation (formerly known as SmartStruxure).
Connected Products: Real Time Location System (RTLS)

• EcoStruxure Building Operation, the hospital's building management system, has allowed Moorfields to integrate its building systems into one proper platform, resulting in reduced operating costs and fewer man-hours maintaining systems.

• EcoStruxure Power Monitoring Expert provides medical staff with critical environment and power information to ensure patient safety during surgeries.

• The hospital's RTLS solution provides a better understanding of patient journeys throughout the hospital.

• Gaining insight into where and how long patients spend their time is vital to improving patient experiences with the intent to reduce wait times.
• Improved power monitoring for hospital operating theatres.

• Reduced operating expenses.

• Improved staff productivity due to fewer man-hours needed to maintain the systems.

• Reduced complexity thanks to one interface to monitor and control the hospital infrastructure.
Chris Harding, Director of Estates and Facilities Moorfields Eye Hospital
Customer Testimonial
"EcoStruxure for Healthcare has helped us get all of the right data at the right time and spend fewer man-hours maintaining the systems, lowering my OpEx costs."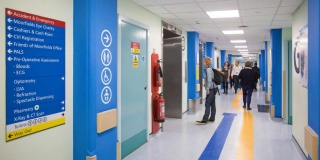 EcoStruxure for Healthcare Power
Management
EcoStruxure for Healthcare Patient and Asset Location
Management