EUREF Campus: Customer Story Key Figures
104 tons of CO2 has been saved since 2012
With the total renewable energy generated by the smart microgrid an electric vehicle could drive 1.2 million km
Seven office buildings received top awards for environmental design
Switch to green microgrids
The energy landscape is shifting with the development of greener microgrids that replace fossil fuel-based generation with renewable solutions. Watch this webinar to discover solutions that enable this transformation today.
Rethinking the city

At the EUREF Campus in Berlin, Schneider Electric shows what the future could look like.
Discover EcoStruxure
Learn how your business can achieve success with EcoStruxure: Innovation at Every Level.
The Challenge
Sustainable energy and networked mobility
• Transform the EUREF Campus into a leader in energy and mobility transformation.
• Set up innovative solutions for building automation, energy savings, energy management, and transportation transformation.
• Allow the EUREF Campus to outstrip the German government's 2050 climate targets.
The Solution
Efficiency and sustainability with EcoStruxure
Apps, Analytics & Services:EcoStruxure Resource Advisor, EcoStruxure Microgrid Advisor (coming soon) 
Edge Control: EcoStruxure Building Operation, EcoStruxure Geo SCADA Expert 

• A smart microgrid based on: solar, wind, biogas combined heat as well as power plants, Li-Ion batteries, Lead-Acid batteries and Power-to-Heat and Power-to-Cool storage technologies

• 1 SCADA system to regulate, control and visualize the microgrid

• 1 building management system

• 1 energy management system

• E-mobility +70 charging points and 1 bidirectional for public E-bus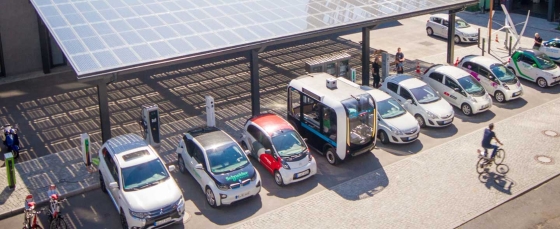 The Results
EUREF Campus, a model for energy efficiency
• Since 2012, with the total renewable energy generated by the smart microgrid,
- 104 tons of CO2 has been saved/compensated
- the whole of Berlin could be powered for 11 minutes or
- an electric vehicle could drive 1.2 million km

• New buildings on the Campus consume significantly less energy than other office buildings. Seven received top awards for environmental design (3 still under construction)
"At the EUREF Campus, the German government's climate targets for 2050 have already been met – this would not have been possible without the smart solutions from Schneider Electric."
Reinhard Müller, CEO of EUREF AG
More EcoStruxure solutions
Have a story worth sharing?
Tell us your success with EcoStruxure and give your story the visibility it deserves.
Discover EcoStruxure™ Grid
See how your business can maximize its benefits.
Innovation Summits
See highlights from recent Innovation Summits and find out about the next event.
Chat
Do you have questions or need assistance? We're here to help!