Telefónica: Customer Story Key Figures
Real time monitoring of installation components
Early detection and quick resolution of downtime
Reduced energy usage
Plan and design an optimized data center
Our practical planning and design e-guide will give you a step-by-step plan for optimizing your data center.
A digital telco journey

Telefónica started as a telephone company and has extended its business to become a digital telecommunications company. Alcalá data centre has the ability to process a staggering 14 kW per rack, making it one of the most high-density data centres in world.
Discover EcoStruxure
Learn how your business can achieve success with EcoStruxure: Innovation at Every Level.
• In the face of escalating demand from customers, Telefónica decided to construct a new data centre just outside Madrid, Spain.

• The goal: To increase capacity, create a flexible, scalable system and improve cost-effectiveness by consolidating several smaller data centres from around the world under one roof.

• Telefónica's Alcalá data centre provides data hosting and housing for diverse internal and external customers.

• The Alcalá data centre needed to be more secure and more powerful to meet the new demands of the digital age, while also meeting new standards on efficiency and sustainability with minimal environmental impact.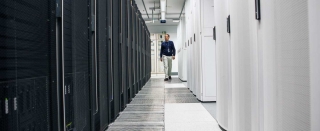 Efficiency and Reliability with EcoStruxure

Apps, Analytics & Services: Remote Monitoring Services
Connected Products: LV Electric Box, Building Lighting, UPS

• Telefónica trusted Schneider Electric to provide a wide range of solutions and services, to help deliver energy-saving results, and enhance their high-capacity data centre's security and stability.

• This collaboration resulted in efficient reductions in energy consumption and CO₂ emissions through the installation of low-voltage electrical boxes, trays and batteries.

• Installing a UPS and Andover Continuum building management solution provided a distributed technology-based system that controls and monitors the building, while simultaneously managing the alarms and energy infrastructure.

• These solutions enabled Telefónica to monitor the status of every component of the installation in real time, allowing for early failure detection and delivering the strictest standards in reliability.
• As a result, the Alcalá data centre boasts a 60% reduction in energy costs compared to both traditional DCIM and the Gold Tier IV® certification.

• Telefónica is able to connect new servers in running mode, with no need to stop to reconfigure or redesign systems.

• In all, the BMS collects data from some 45,000 elements.
Learn more about our offers