Balancing efficiency with facility constraints
Optimal building efficiency requires a solution powered by flexibility and reliability. Seamless control of HVAC, lighting and metering is crucial to reduce waste and protect the bottom line. Smaller buildings have never had such a solution — until now.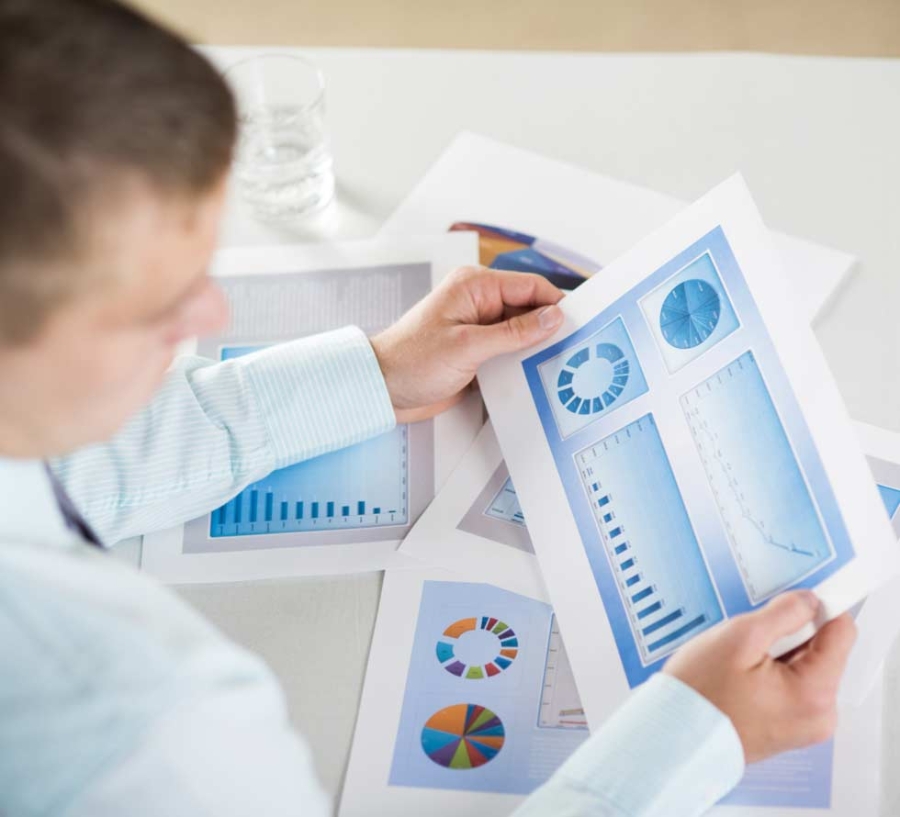 Solutions
EcoStruxure™ Building Expert (formerly known as SmartStruxure Lite) delivers programmable control and 24/7 monitoring of HVAC, lighting, and metering. A non-license-fee software, it reduces energy waste without compromising comfort for small and medium buildings.
Value Proposition
Scalable, allowing you to include additional applications incrementally.
A 'plug and play' design ensures the applications will connect seamlessly.
Open standards enable flexibility for virtually any system.
Differentiation
Local and remote monitoring and control.
Fully programmable, using either scripting or graphical programming.
Access and control data inputs/outputs for your integrated devices.
Standalone solution, or integration into larger building management systems.
Smart energy management for any size building isn't just available, it's scalable through Schneider Electric's building solution portfolio offer:
• Simple, yet efficient, HVAC management through application-specific room controllers.
• Wireless technology for central visibility of HVAC systems through EcoStruxure™ Building Expert.
• Integrated lighting control and occupancy sensors ensures proactive energy management.
• Visibility and control across your multi-site enterprise via cloud-based options.
• Scalability for seamless integration into larger building management systems.
• Field Services offers reporting, analytics and optimization strategies.
• Full integration of HVAC and lighting into a hotel property management system for guestroom control.
Benefits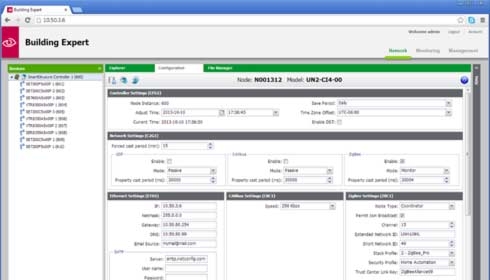 Explorer Tab: Single Network Configuration Page
MPM configuration objects in a single page, reducing time and clicks on system setup.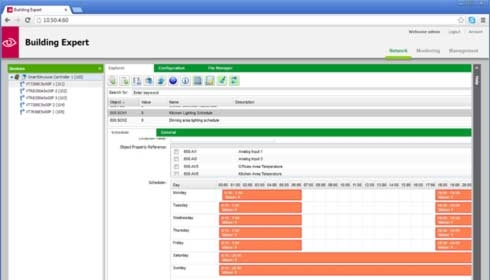 Explorer Tab: Scheduler Object
Set events according to the time and day, and tie events to building schedules.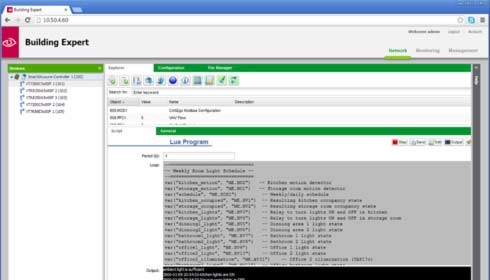 Explorer Tab: Scripting Tool
Open language "Lua" and supports real-time response to scripting.

Explorer Tab: Graphical Programming Tool
Drag and drop function blocks to build control sequences.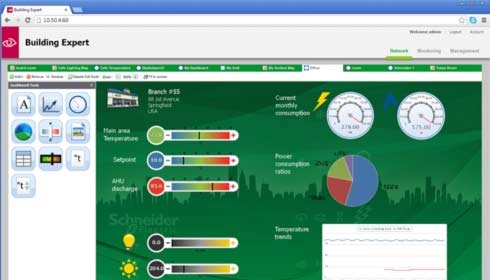 Monitoring Tab: Dashboards
See temperature and lighting relay readings, as well as energy consumption.
EcoStruxure™ Building Expert solution Brochure
Schneider Electric has leveled the playing field. Now, owners of smaller buildings can enjoy the same building automation benefits that large buildings have enjoyed for years. EcoStruxure™ Building Expert reduces costs and creates a better environment.