Control Panel Builder Rewards Program

Rewarding loyalty, partnership, and growth

Access to the Panel Builder Portal • Opportunities to earn rewards points • Rewards redemption • Earn account-level rebates • First access to innovative products • World class training • Special software pricing • Invitations to key forums and events
Register for the Control Panel Builder Rewards Program in 3 easy steps and start earning points today!
1. Sign up for the Portal
Sign up for the Panel Builder Portal to get started.
2. Complete your profile
After portal sign up, fill out your profile.
3. Register for the program
Complete a quick survey to register for the rewards program.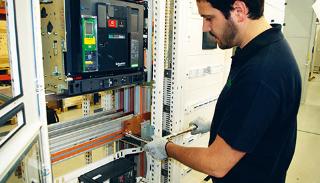 Control Panel Solutions Catalog
We've simplified the selection process to get you the products you need fast. Quickly view and choose control panel solutions available today at your local distributor.
Where to Buy
Take your control panel builds to the next level! Contact your local authorized distributor to place an order today.
Access FREE, customized expertise in your dedicated Control Panel Builder Portal
Join today for exclusive resources, technical support, and more to grow your business.
We Supply Everything Except the Wire
Schneider Electric provides 99% of the components you require to build control panels. See our comprehensive offer.
Join the portal to get the tools you need on and off the job
Simplify your day with easy product selection, product cross-referencing tools, CAD library, and design tools.
Stay up-to-date with training on products, safety and codes, plus the latest product innovations and industry news.
Find quick answers with installation videos, technical documentation, and FAQs, plus direct access to Level 2 technical experts via phone and chat.