A single-source to build control panels with the most comprehensive offer of reliable products on the market. Products & functions completed by Industrial Control panel covering 99% of Industry Automation & Control requirements.
Choose, install and configure quickly with handy tools: Catalog of essential products, Digi-Cat, selectors and configurators to build your control panels.
Discover our most popular offerings
Harmony illuminated estop
Improve operator and process efficiency with Harmony emergency stop button. Its new design with a dual indicator light lets operators quickly locate and see the status of their machine, even in the dark!
Harmony human interfaces
Our basic HMI panels are ideal for performing diagnostics, adding control and adjusting system settings on simple or compact applications.
Harmony signaling devices
Harmony tower lights and beacons provide long-distance indication of the operation status or sequences of machines using lights and buzzers.
Harmony relays
The Harmony range of automation relays are designed for the management of simple automation systems offering logic control of simple processes. Control relays monitor and detect abnormal operating conditions, then initiate necessary corrections actions before serious and costly breakdowns can occure. Timing relays control a circuit at set intervals while counters offers and display usage stats like hours of operation.
Want to know more? Select your products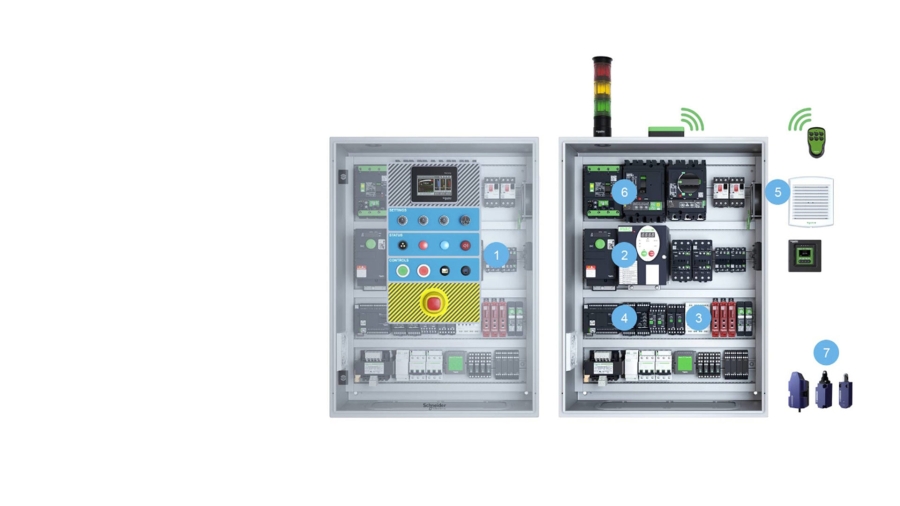 Motor control management

2

Electrical distribution systems

4

Sensors & limit switches

6
Motor control management
2
Electrical distribution systems
4
Sensors & limit switches
6
Deliver superior operator interfaces
Operator interface tutorial
Discover Harmony and see how to optimize your machine operator interface.
Boost your panel business efficiency
Grow your industrial business with the support from a world leader in automation and control.