Simplify your building maintenance
For real impact on operating costs, occupant comfort and asset value you need to keep building systems performing optimally while working with limited budgetary and maintenance resources. EcoStruxure Building Advisor provides key insights into your building operations by constantly monitoring systems and identifying faults to proactively address building inefficiencies.
Optimize your budget with condition-based maintenance
Condition-based plans reduce unscheduled maintenance typically by 29%.
Identify and correct issues to reduce complaints
Fix issues before they become problems and reduce occupant complaints by 33%.
Make informed decisions to save energy costs
Customize reports offer predictable and actionable insights that improve sustainability and reduce energy costs up to 20%
Our solution to your changing needs

Combining people, technology and collaboration ensures you will meet the changing demands for high-performance businesses and buildings. With innovative digital services, you will maintain the balance between cost, risk and asset value.
People
Take advantage of remote experts and certified onsite technicians.
Technology
Use real-time data to drive condition-based maintenance and cross-system interoperability.
Collaboration
Review customized, detailed reports provide deep insights on your building systems along with expert advice.
Utilize digital models to compare your HVAC system performance with virtual environments. Detect equipment issues and system-level faults for accurate diagnoses and enable rapid scalability across enterprise portfolios so that everyone can benefit from lessons learned across the board.
Identify trends, diagnose problems, prioritize costly repair problems or adjust control settings with significant savings potential. By automatically analyzing the system each day, our platform can classify mechanical and control problems before they become occupant complaints and reduces time and expense by performing root-cause analysis.
Unlock hidden savings across your building with access to unused data that maximizes existing automation systems. Embed analytics within your workflow to enhance daily decision-making by assigning, tracking and demonstrating impact from completed work. Enable your team to coordinate future expenses from engineering services and resources with realized savings.
Measure metrics such as Faults, Cost Opportunities, Energy, Carbon Footprint, among others, by integrating with a wide array of Building Management Systems across the globe. With continuous commissioning, provide monitoring and verification for your building's energy improvement projects.
Services: Choose a plan tailored to your needs
With trusted global expertise, find a variety of services to meet the diverse requirements of your building maintenance.
Plus Service Plans
Provide triage and support to diagnose and resolve issues remotely; on-site resolution optional. Critical alarms through remote experts.
Prime Service Plans
Work with remote data scientists armed with insights from automated fault detection. Planned, preventive maintenance approach delivered on-site and remotely, with site health reports.
Ultra Service Plans
Deliver lifetime building efficiency through remote data scientists who guide on-site support through task prioritization. This condition-based approach provides ROI justification of energy conservation measures and site health reports.
| Service included | . | Plus | Prime | Ultra |
| --- | --- | --- | --- | --- |
| Service included | . | Plus | Prime | Ultra |
| Monitoring | | | | |
| | Alarm monitoring | X | X | X |
| | Cloud backup | X | X | X |
| | Condition monitoring | | X | X |
| Maintenance | | | | |
| | Remote Issue Resolution | X | X | X |
| | Preventive checks | | X | X |
| | Condition-Based Checks | | | X |
| Reports & Consultation | | X | X | X |
Combine advanced analytics, performance trending and diagnostics with expert guidance and actionable information to transform operations. Includes site health reports with ROI justification of energy conservation measures.
Explore all the features you get with each option
Alarm monitoring

Even the best managers are unable to sort and respond to every alarm triggered by a complex BMS installation. Alarm monitoring is included in Plus, Prime and Ultra Service Plans.

• Automatically relay alarms to the right person or group via SMS text, email, or web interface
• Predetermine actions on alarm events such as notifications and troubleshooting responses
• Remote troubleshooting and escalation of alarms to service technicians expedites action and resolution
• Periodic analysis of all BMS alarms and detailed reports include expert reviews and recommendations

Condition monitoring

Even 20% of energy in buildings is wasted due to poor commissioning or performance degradation over time. Condition monitoring is included in Prime and Ultra Service Plans.

• Resolve ongoing operating problems
• Improve comfort
• Optimize energy use
• Identify savings opportunities

Cloud backup

Make your building's databases accessible to you at any time with automatic backups. Cloud backup is included in Plus, Prime and Ultra Service Plans.

• Fully automated to eliminate time-consuming manual backups
• Stores multiple copies of backups without the limitations of disk space
• Ensures quick recovery from failures that cause data loss
• Prevent expensive data recovery methods
• Ensure data is always available without depending on the physical transport of external hard drives

Preventative checks

Preventive maintenance checks are based on the latest maintenance guidelines and decades of experience in maintaining building systems. Preventive checks are included in Prime and Ultra Service Plans.

• Inspections utilize the latest cloud-based fault detection tools
• Expert field service engineers and remote data scientists provide ongoing detection of abnormalities
• Data is recorded and provided periodically in building maintenance reports

Remote issue resolution

Enjoy the peace of mind while we are resolving your on-site issues 24/7. Remote issue resolution is included in Plus, Prime and Ultra Service Plans.

• Issues are addressed immediately through Schneider Electric remote experts.

Condition-based checks

Condition-based maintenance checks utilize cloud-based automated diagnostics and remote experts. Condition-based checks are included in Ultra Service Plan.

• Ensure equipment is in optimum operating condition
• Avoid unnecessary interval-based repair and replacement costs
• Prioritize maintenance needs by impact and significance ranking to drive the most impact

Comprehensive reports delivered on a regular basis with expert consultation. Reports and consultation are included in Plus, Prime and Ultra Service Plans.

Alarm and site work report

• Collaborate with your onsite facilities team to avoid recurrence.
• Ensure alarm incidents are attended to and taken care of in a timely manner
• Analyze alarm trends and frequency to identify long-term solutions
• Report contains: site visit summary, all alarm incidents, alarm troubleshooting details, analysis of all site alarms and recommendations

Site health report

• Detailed alarm analysis detailing your alarm events, actions taken and recommended corrective actions
• Site visits and remote intervention summary with detailed tasks and actions taken
• Preventive checks summary with recommended actions
• Condition monitoring report with detailed diagnostics categorized by energy, comfort and maintenance and prioritized on a scale of 1-10

Site health report with ROI justification

• Alarm analysis details alarm events, actions taken and recommends corrective actions
• Includes site visits and remote intervention summary with detailed tasks, actions taken and ROI justification
• Preventive checks summary includes recommended actions
• Condition monitoring report with detailed diagnostics categorized by energy, comfort and maintenance and prioritized on a scale of 1-10
• Cost avoidance summary with historical trends, expert analysis and consultation to improve operational efficiency of building equipment
Boston Scientific
Boston Scientific, a worldwide developer of medical devices, integrated EcoStruxure Building Advisor to reduce energy waste and work toward creating a more sustainable corporate campus, achieving a 40% reduction in avoidable costs related to faults
Learn more: Save energy, time and money
Interested in changing your traditional ways of working, but not sure how? By proactively addressing energy and comfort issues, you can drive a positive impact for not only your building but your business performance.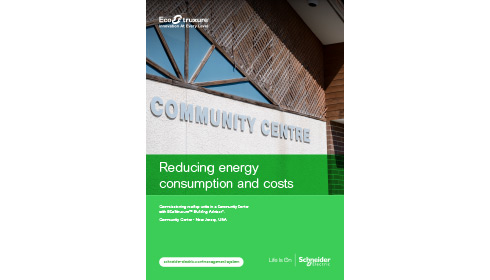 Community center
Interested in ensuring that system maintenance achieves its desired outcomes, a New Jersey community center used
EcoStruxure Building Advisor
to provide ongoing commissioning while reducing energy consumption and costs.
Read the full story
Office tower
A multi-tenant commercial office building is using
EcoStruxure Building Advisor
to uncover efficiency opportunities and qualify for a utility incentive program – all at considerable annual cost savings.
Discover the full story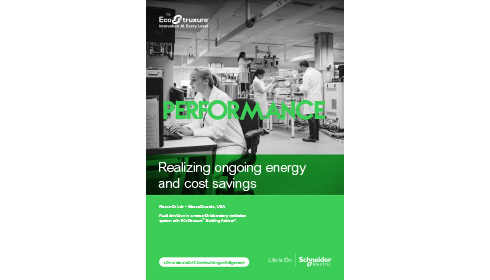 Research lab
A state-of-the-art Boston area laboratory protects the value of their equipment investment through continuous system fault detection and proactive building maintenance. This enables ongoing energy and cost savings.
Read about the laboratory
Get more data resources and support
Frequently Asked Questions
Easily find and share the answer you are looking for from our online FAQ service.
Documents and Downloads
Technical Library to find data sheets, product specifications and more.
Customer Care App
Download mySchneider app and get support on the go- anytime, anywhere. Get it today!
Chat
Do you have questions or need assistance? We're here to help!