Smarter Building Infrastructure
Turn your commercial real estate buildings into smart buildings with Schneider Electric's wide range of flexible and scalable solutions. Our solutions help reduce energy costs, improve efficiency, meet sustainability goals and boost building value while keeping a productive and comfortable environment for occupants.

White paper
This paper introduces a practical framework for securing existing and new building control systems against cybersecurity threats – to enable the benefits of IoT and cloud-connected smart buildings.
Energy efficiency for The Edge

Deloitte and Schneider Electric set out to build the world's most sustainable office building in Amsterdam, Netherlands.
Find products and solutions
Building Operational Efficiency
Discover innovations for building automation and management systems that make commercial buildings more energy-efficient and sustainable, regardless of size.

White paper
The impact of Power Management on building performance and energy costs
View white paper
Find products and solutions
Developers, tenants, and facility managers of commercial buildings need to be on top of IoT and Big Data within their facilities. Real-time, smart space management and energy efficiency can save money and contribute to an enhanced corporate image.

White paper
How Integrated Room Controllers Reduce Office Energy Cost and Boost Worker Productivity
View white paper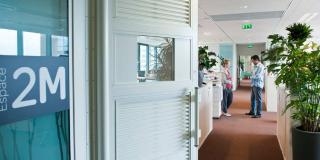 Blog
By executing the integrated approach detailed in this post, you can increase employee comfort levels significantly, which leads to improved productivity.
Find products and solutions
Frequently Asked Questions
Start here for access to our Knowledge Base to get answers to more than 100,000 questions online in seconds.
Documents and Downloads
Technical Library to find data sheets, product specifications and more.
Customer Care App
Download our mobile app and get support on the go - anytime, anywhere. Get it today!
Chat
Do you have questions or need assistance? We're here to help!