Are you ready for the next level of Masterpact™ innovation?
Find new ways to serve your customers or company thanks to our MTZ app. Increase power uptime and energy efficiency with the new Masterpact™ MTZ air circuit breaker. Building on the legendary performance, safety, and reliability of the existing Masterpact range, Masterpact MTZ circuit breakers are future-ready and services-ready.
Download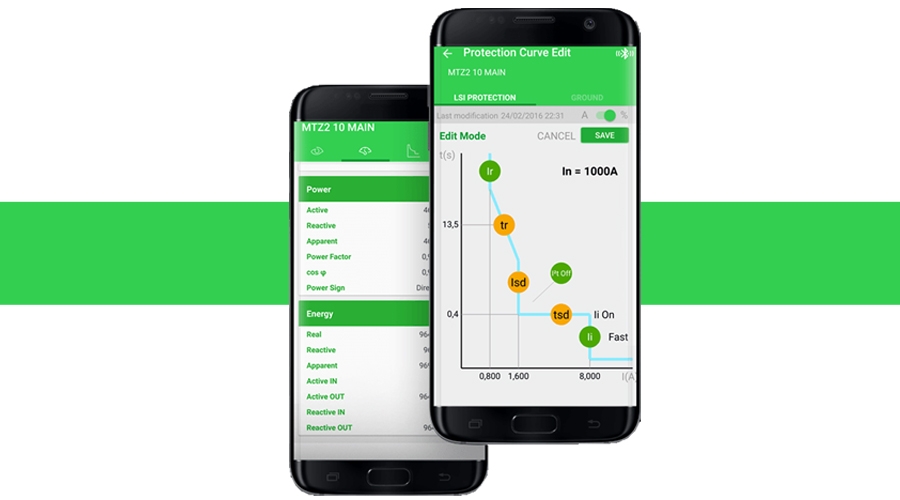 Secure a wireless connection locally
Connect locally via contactless, wireless, and secure Bluetooth® and NFC connection. Review energy consumption, power quality, phase balance and health status
Remote notifications anywhere
Review status anywhere via Facility Expert digital and collaborative maintenance logbook: Periodic inspection, warnings, and alarms.
Comprehensive crisis management
In case of a trip, restore power quickly and safely using your smartphone. Also save key event data (before tripping) via NFC connection, even without power.
Stay digitised with MyPact
Stay digitise with MyPact the online selector to configure LV circuit breakers such as Masterpact and Compact range of Schneider electric. 
Configure your product by selecting its characteristics, options and auxiliaries.
Learn more about
Stay ahead with the Masterpact MTZ app
Review status via smartphone: Load levels, health status, warnings and alarms, protection settings
Real-time alerts and self-diagnosis: event type, severity level, time stamp
Step-by-step guides to restore power easily in the event of a trip
Chat
Do you have questions or need assistance? We're here to help!