Modicon

: popular PLCs since 1968

Discover or rediscover Modicon's rich history and see why the new Modicon M580 begins a new era in industrial automation control.

Register here to know how easy it is to modernize your plant.
The first
Modicon PLC
model was called the 084. But did you know why? Well, the 084 was the 84th project to be undertaken by the Bedford Associates group. Quite simple really!
The Bedford Associates group, who formed the company Modicon in 1968 after calling their invention Modular Digital Controller, consisted of Dick Morley, Tom Boissevain, George Schwenk, and Jonas Landau (pictured from left to right on the photograph below). 
Pride of place in the middle of the photograph is the Modicon 084 programable controller (PC). Can you believe the size of it compared to today's PLCs! But back then its size was revolutionary as it replaced what previously took up walls of cabinets, relays and wiring, a fact that many customers had trouble comprehending when they first came on the market.
The features that made Modicon take off were its rugged design, modular inputs/outputs (I/0) to connect easily to a wide range of field devices and a revolutionary programming language, called Ladder Logic, that simulated the behavior of the relay contacts and coils that were already familiar to industrial process engineers.
It's interesting to note that the term
PLC
or Programable Logic Controller which ultimately became the industry norm, was in fact the term coined by Allen-Bradley in 1971 and superseded the term PC (Programable Controller), which of course became associated with Personal Computer.
Reference: History of Control, History of PLC and DCS, Vanessa Romero Segovia and Alfred Theorin 2012-06-15 (minor revision 2013-07-26)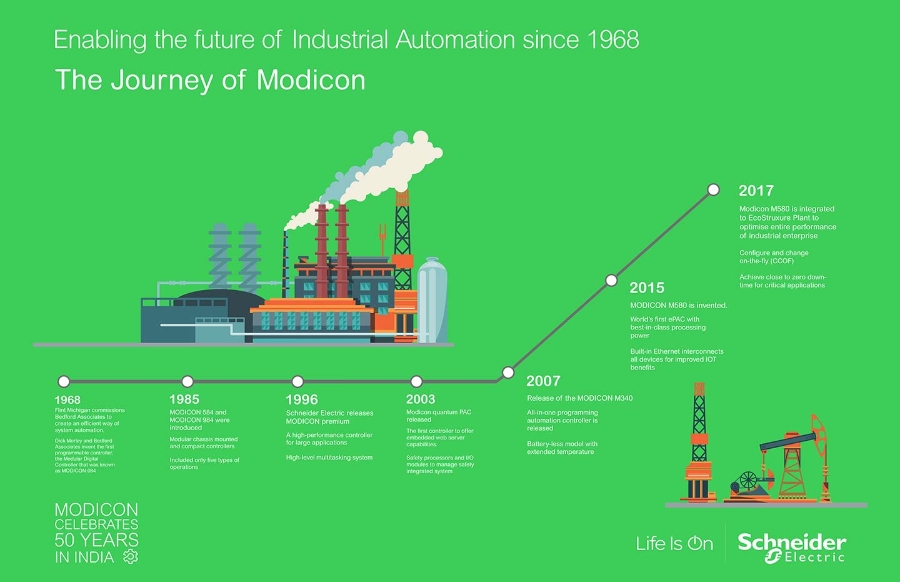 From the birth of the first Programmable Logic Controller Modicon 084 in 1968, to the latest ePAC Modicon M580, Schneider Electric never stop innovating to make industry more intuitive.

1968
The story of modern automation begins with Dick Morley.
In 1968, he built the first Programmable Logic Controller, the Modicon 084. This changed the way we thought about process design.
Before that, industrial processes were controlled by hard-wired relay systems, which were complicated and expensive to modify.
This first PLC put the "automation" into process automation – reducing the time, effort and cost required to adjust a process, and simplifying the communication between process devices.
One year later, Schneider Electric took this innovation worldwide – and the new age in automation had begun.

1996
Ever since, the Modicon line of controllers has continued to set the standard.
And in 1996, Schneider Electric released the Modicon Premium.
A high-capacity, high performance controller for large applications, that pioneered a whole new class of PLC – the Programmable Automation Controller.

2003
The Modicon Quantum PAC released in 2003 became the first controller to offer embedded web server capabilities.
This marked a huge turning point in making network communications easier and more reliable.

2007
Schneider Electric marked another milestone in 2007, with the introduction of the first all-in-one PAC: Modicon M340, which simplified configuration and operation using functions like:
- a native USB port,
- an SD memory card,
- as well as Ethernet,
- CANOpen,
- and Modbus ports on the CPU.
The battery-less design eliminated the need to change batteries in remote, unmanned applications.

2015
All these years of tireless innovation and experimentation bring us to today, when Schneider Electric presents its latest incarnation.
It's not just another improved PAC.
With standard unmodified Ethernet built right into its core, Modicon M580 is the world's first e.PAC.
The first of the next generation of controllers, Modicon M580 has best-in-class processing power and memory for hybrid applications and industry-leading cybersecurity built in. That additional power and speed provides better insight into operations, and it can provably reduce time to market, reduce process energy consumption and improve productivity.

2017
Today, the Modicon M580 is part of our EcoStruxure Plant domain.
EcoStruxure Plant is our IoT-enabled open and interoperable architecture that optimizes the entire performance of an industrial enterprise. Across three levels (connected products, edge control, and apps, analytics, & services) and with access to the cloud and end-to-end cybersecurity, it is a complete solution that covers the breadth and depth of industrial markets – from continuous processes to hybrid and discrete manufacturing.
Modicon M580 is at the heart of our edge control layer for hybrid process automation. It can provably educe time to market, reduce process energy consumption and improve productivity:
• Modicon M580 can operate 5 times faster than older systems. In a typical high volume manufacturing plant this can mean 2M$ a year in extra production volume.
• For an average automation project, it can reduce time to market by 25% allowing customers to get new projects up, running and making money sooner.
• Energy consumption can be reduced by 30%, so for a large plant this can mean savings of around 1.8M$ on their annual electricity bill
• Increasing the visibility of plant assets and process performance can represent a potential margin increase of 10points. This equates to 1.3M$ for a large plant. Modicon M580 architectures can help leverage production data to deliver this increased profitability.
• It drastically reduces the risk of cyber attacks. This represents a potential annual reduction in risk of around 1.25 M$ for a large industrial facility.

These savings mean that the Modicon M580 ePAC is the controller which, when properly applied as part of a project, can help hybrid manufacturers achieve better, earlier ROI and 100% returns on their investments in under 3 months.
Mr. J.K. Chattopadhyay | Business Head, Larsen & Toubro | Modicon Hero Since 1980
"Modicon reignited India's Industrial revolution with Quantum PLCs"
Mr. Bimal Shah | Executive Director, Fine Organics Industries Ltd. | Modicon Hero Since 2000
"Modicon process control solutions gave us the capability to create products with never before experienced levels of safety, productivity and quality."
Mr. Babu Mathew | Managing Director, IIMPL | Modicon Hero Since 1991
"Over the years, our production has grown tenfold with Modicon."
Mr. Govindaraja Bhat | GM I/C (BFU), Kudremukh Iron Ore Company Ltd. | Modicon Hero Since 1978
"Industrial Automation in India began with Modicon PLCs, at our company."
Mr. Pankaj Kumar Gupta | DGM, JSW Steel | Modicon Hero since 1996
"In just 3 days, Modicon changed our future for the better."
Register here to know how easy it is to modernise your plant
Our automation expert will conduct a free walk-through audit of your plant and update you with current install base obsolescence and migration plan. Please fill the below form, and our team will contact you soon.