Introducing EcoStruxure™ IT next-generation DCIM
• Hosted, vendor-neutral, monitoring, management and planning
• Smart-alarming and data-driven recommendations powered by AI
• Risk planning, capacity management and automated workflows
Remote monitoring service — Asset Advisor
Discover our 24/7, cloud-based remote monitoring service. Data-driven recommendations from our service bureau are the extra pair of eyes you need.
> Learn
EcoStruxure IT Expert
Maintain uptime and manage alarms with cloud-based monitoring. Enjoy secure wherever-you-go visibility and control.
> Sign up for a free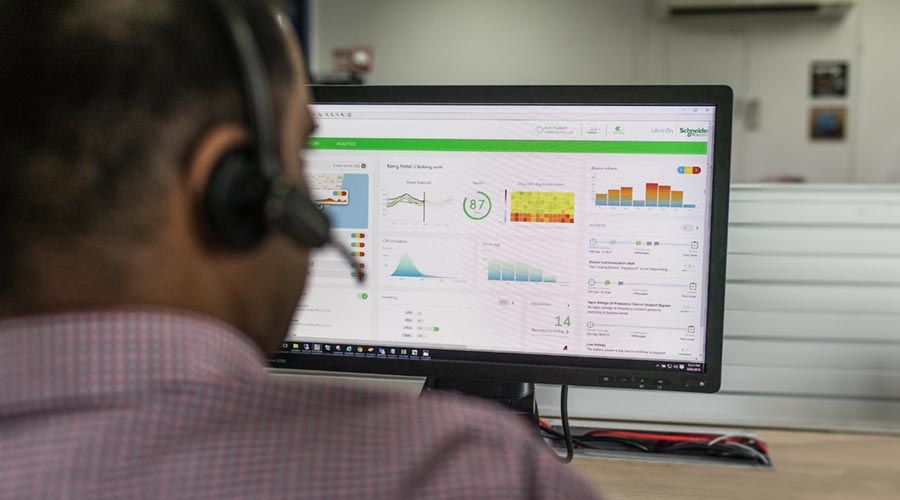 See your data centre and remote locations on the go!
Monitor your devices and get alarms right on your smartphone.
Sign up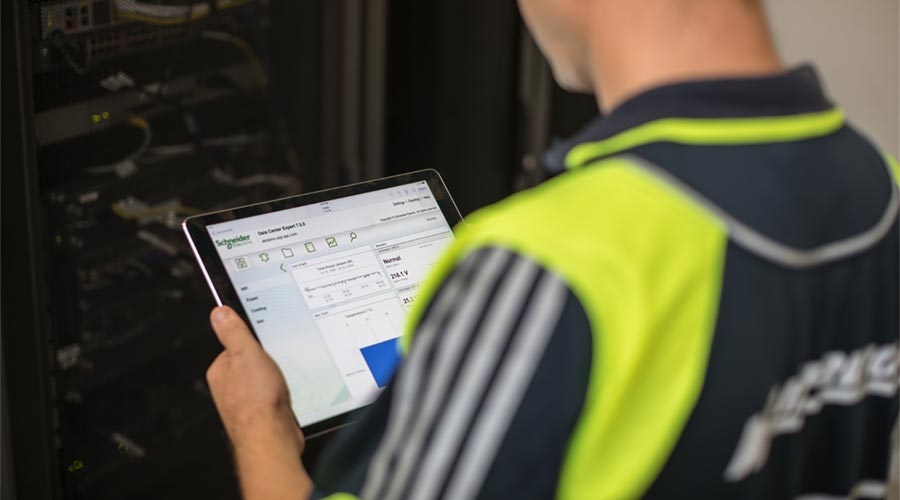 What are customers saying?
RSA Improves Reliability with Cloud-based Remote Monitoring
See how EcoStruxure's IoT-enabled, fail-safe power, cooling and communications infrastructure architecture helps RSA maintain zero-downtime in its 44,000-sq-ft colocation data centre.
EcoStruxure IT Enables 24/7 Data Centre Resiliency at PSE
Watch how Puget Sound Energy relies on the EcoStruxure IT data centre infrastructure management (DCIM) solution for comprehensive visibility.
Bainbridge Island School District Ensures Continuous Learning with EcoStruxure
Bainbridge Island School District chose EcoStruxure IT to help ensure continued availability of its innovative digital learning environment.
Cavern Technologies Provides Better Service with EcoStruxure
Watch how Cavern Technologies partnered with Schneider Electric to offer better data centre management solutions for their colocation customers.
EcoDataCenter Utilises Sustainable Energy
See how EcoDataCenter achieves a remarkably low power usage effectiveness and optimses the use of their hydroelectric power with EcoStruxure IT Advisor.
Wellcome Sanger Institute Drives Energy Efficiency
Watch how Wellcome Sanger Institute partnered with Schneider Electric to drive energy efficiency and facilitate data centre management through EcoStruxure IT Expert.
Digital Remote Monitoring and How it Changes Data Centre Operations and Maintenance
Today's data centre power and cooling infrastructure has roughly 3 times more data points/notifications than it did 10 years ago. This paper explains how seven trends are defining monitoring service requirements and how this will lead to improvements in data centre operations and maintenance.
Hybrid: Cloud-based DCIM, on-premise DCIM, or both?
6 Practical Approaches to Hybrid Environments
What are options in a complex hybrid IT environment? 451 Research Advisory™ report shares latest solutions.
> Download the
On-premise DCIM software
Optimise your data centre. Plan power, mechanical systems, IT space for efficiency and reliability.
On-premise DCIM — monitoring, planning and modelling
Visit our EcoStruxure IT Software Help Centre
Visit our Help Centre to find information on your EcoStruxure IT software or DCIM application.
Join the EcoStruxure IT Help Centre Community
Do you need help with a data centre infrastructure management software application or want to find out more about how to use it? Check out our online support community for answers and help from your peers.
>    Visit our community
Chat
Do you have questions or need assistance? We're here to help!