Digital Realty: Customer Story Key Figures
$1M
Nearly $1 million in annual savings
Improved operational reliability and visibility
Enhanced reporting
Keep your colocation businesses relevant
Read this study based on primary research survey data that assesses the market dynamics of a key enterprise technology segment through the lens of the "on the ground" experience and opinions of real practitioners — what they are doing, and why they are doing it.
A world of availability

Digital Realty needed a globally consistent infrastructure to support its colocation goals and expansion. Schneider Electric helped customize a reliable EcoStruxure solution to unify, monitor and control Digital Realty facilities, anywhere in the world, anytime.
Discover EcoStruxure
Learn how your business can achieve success with EcoStruxure: Innovation at Every Level.
• For Digital Realty's customers, downtime is not an option, making quick response crucial to customer satisfaction.

• As Digital Realty continues to expand its footprint, it is critical that everything from system architecture to end-user reporting is consistent across all sites.

• New construction in the colocation industry is happening rapidly and requires flawless execution; installations must be standard, globally.

• Digital Realty's customers are seeking 24/7 access to actionable information.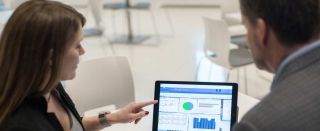 Connectivity and Reliability with EcoStruxure™
Edge Control:
EcoStruxure Building Operation, EcoStruxure Power Monitoring Expert
Connected Products:
HyperPod integrated rack systems
• Digital Realty now leverages EcoStruxure, Schneider Electric's open, interoperable, IoT-enabled system architecture and platform to provide the reliability, scale and visibility necessary.
• Schneider Electric worked with Digital Realty to develop standard solutions and configurations that ensure consistency for existing and new customers, regardless of industry, size, or location.
• Digital Realty now employs Schneider Electric's HyperPod integrated rack systems, giving this colocation provider the flexibility to fit customers' varied configurations with reduced installation times and faster deployment.
• Through partnership with Schneider Electric, Digital Realty has been able to improve operational reliability, enhance reporting, and optimize facility control while capturing nearly $1 million in annual savings.

• With the right tools to execute their vision, site operators can run their data centers efficiently and consistently around the globe 24/7.
Kevin Dalton, Vice President, Global Engineering and Design, Digital Realty
Customer Testimonial
"In order for us to achieve global consistency, we need a partner that can provide products on a global level. Schneider Electric is definitely a partner providing a one-stop solution for our infrastructure needs."
Discover EcoStruxure
Learn how your business can achieve success too.
Innovation Summits
See highlights from recent Innovation Summits and find out about the next event.
Chat
Do you have questions or need assistance? We're here to help!