Healthcare facilities are highly energy intensive. They are open 24/7/365, and can have numerous offsite facilities, making energy management a daunting task.

South Australian Health and Medical Research Institute

SAHMRI utilizes Schneider Electric's EcoStruxure architecture to help them build a highly intelligent and responsive facility for their researchers.

Watson Clinic

Integrated building automation and control across multiple healthcare facilities that protects past investments, ensures reliable performance and improves the care and comfort of patients, visitors and staff.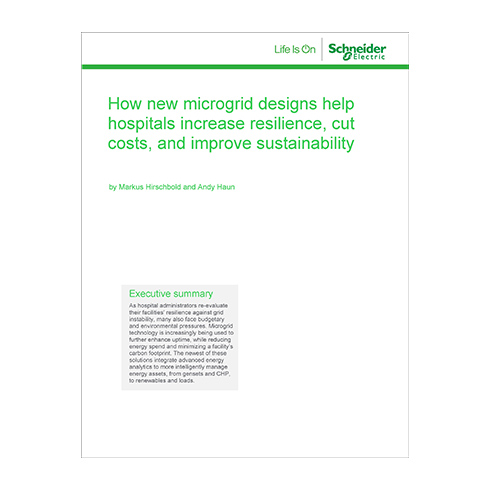 White Paper
How new microgrid designs help hospitals increase resilience, cut costs and improve sustainability.
Read white paper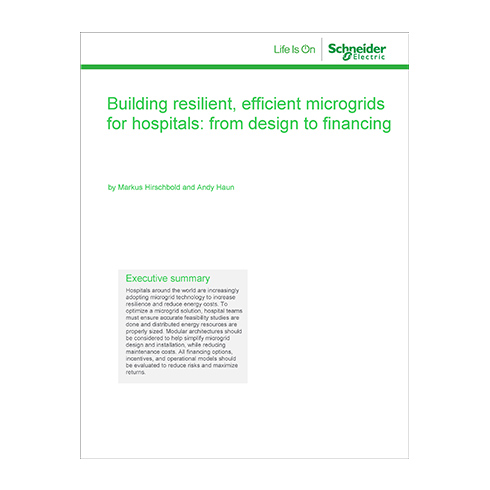 White Paper
Building resilient, efficient microgrids for hospitals: from design to financing.
Get the white paper
Infographic
In general, hospitals need electricity just as much as the doctors to operate efficiently. Click here to learn about factors that hurt hospitals' energy efficiency.
Find products and solutions
EcoStruxure Buildings

With growing urban populations and increasing electricity usage, there's more demand than ever for innovation in buildings. Check out our interactive story to see how Schneider Electric is using disruptive technologies to create the buildings of tomorrow.

Balancing Data Center Modernization Risks

Data Center modernization is not easy. Successful modernization requires the right mix of cloud, colocation and on-premise assets, and the choices you make can have a profound impact on business performance.
Energy University
Want to reduce hospital energy consumption? Learn how with our online courses endorsed by ASHE.
Documents and Downloads
Technical library to find data sheets, product specifications and more.
Customer Care App
Download our mobile app and get support on the go – anytime, anywhere. Get it today!
Chat
Do you have questions or need assistance? We're here to help!