BASF: Customer Story Key Figures
63 assets
remotely monitored for analysis
100+
variables measured and computed
24/7
access to data asset health
Learn new ways to optimize key electrical assets
What is the real TCO of your electrical assets? And, what are the untapped rewards? This white paper examines new strategies for distribution equipment upkeep and IoT connectivity. Learn more on safety, uptime, power optimization, equipment protection, and upgrades.
Digitization that lends a deeper view

When BASF built a new electrical substation, they implemented EcoStruxure Asset Advisor for increased visibility into operations. The largest chemical company in the world now has a digital dashboard and the expert support needed to monitor critical-asset status.
Discover EcoStruxure
Learn how your business can achieve success with EcoStruxure: Innovation at Every Level.
The Challenge
• BASF wanted to build a new power distribution substation at its Beaumont, Texas plant.
• BASF sought to be an industry leader in leveraging data-driven services to maximize plant uptime and productivity.
• A single, IIoT-enabled solution was put in place, providing visibility on the health of the site's prime electrical-distribution assets.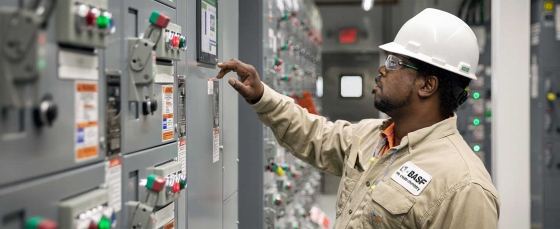 The Solution
Insights and digitization with EcoStruxure solutions
Apps, Analytics & Services:

 
EcoStruxure Asset Advisor
Edge Control:

Power Monitor Expert

 
Connected Products:

 
Low- and medium-voltage switchgear, TeSys™ motor control systems, UPS units, DC battery, and variable frequency drives


• Schneider Electric helped build Substation 6, adding low- and medium-voltage switchgear, motor control systems, UPS units, variable frequency drives, and more.
• BASF implemented Asset Advisor to continuously collect and analyze data on the health of these assets.
• Through its partnership with the Schneider Electric Services Bureau, BASF gets customized advice and proactive recommendations to prevent failure and optimize maintenance strategies.
The Results
• Over 100 variables get measured and computed through Asset Advisor to provide accurate and reliable condition-monitoring for the Beaumont plant.
• BASF can now monitor "the pulse" of its new substation assets through their customer dashboard that provides a global health index and specific asset status.
• EcoStruxure Asset Advisor enables more predictable asset performance, helping BASF to prevent catastrophic failures, improve plant safety and increase operational efficiency.
"EcoStruxure Asset Advisor is helping prevent catastrophic failures. It's getting the right data at the right time. And in the end, data is value."
Lee Perry, Electrical Design Engineer for BASF
Remote monitoring. Connected operations.
Have a story worth sharing?
Share your success with EcoStruxure and give your story the visibility it deserves.
Discover EcoStruxure
Learn how your business can achieve success too.
Innovation Summits
See highlights from recent Innovation Summits and find out about the next event.