Spacial S3X
Stainless-steel wall-mounting enclosures
Two different stainless steel grades wall-mounting enclosures to suit either infrastructure and food & beverage applications, or environments with high salinity or chlorine content like marine applications.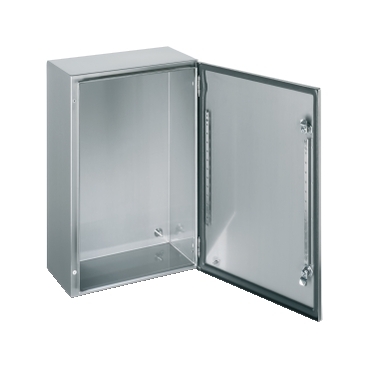 Features

Monobloc stainless steel enclosure, made from a one-piece metal sheet, folded and welded on the corners.

Material: Stainless steel AISI 304L or AISI 316L.
Versions:
- 17 sizes with plain door (either in AISI 304L and AISI 316L stainless steel)
- 6 sizes with transparent door in AISI 304L stainless steel.

Degrees of protection:

IP 66 (IEC60529) for single door version
IP 55 (IEC60529) for double door version
IK 10 - plain door ( IEC62262)
IK 08 - glazed door ( IEC62262 )

Three finishing options:

Polished Scotch Brite®
Micro-beading (on request)
Painted (on request)

Certifications:

IEC62208 (Bureau Veritas)
CUL

Enclosures Spare Parts

Schneider Electric selected a wide variety of spare parts for your enclosure. No matter if the enclosure is recently built or has several years, you can have the replacement parts you need.

Benefits

Enclosures for exposed environments!

A comprehensive offer: Many different standard dimensions, different types of doors, different stainless steel specifications and different finishing.
Watertight: The front rain gutter avoids ingress of water, oil or other kinds of liquids. It ensures IP 66 and protects the interior when the door is open.
Practical and time-saving: Stainless steel wall-fixing brackets. Vertical support perforated rail to allow the mounting of door equipment. Reversible door opening at a 120º angle. It also features four pre-cuts on the back for machining mounting.
Clean and hygienic: The high-quality finishing options are easily cleaned.
Aesthetics: Good aesthetics with plain or glazed door.
Customised versions on request.

Applications

Two different stainless steel specifications:

AISI 304L - Specially recommended for food and beverage applications as well as infrastructure, except in salty environments.
AISI 316L - Specially recommended for environments with high salinity or chlorine content. Marine applications.