Schneider Electric Fixing Accessories
Professional range of cabling and fixing products
Professional cabling and fixing products for reliable installations in residential, office and retail buildings.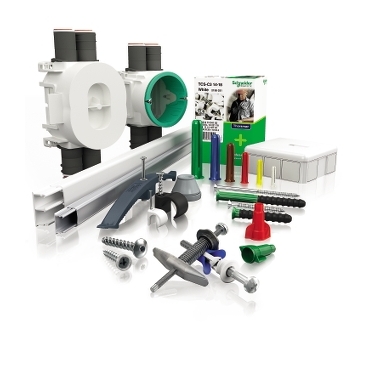 Features

Schneider Electric now offers a complete range of fasteners specifically for the electrical industry. You'll find the familiar fasteners that you use day-to-day and several special application products that are suited to the needs of the professional contractor and are unique to Schneider Electric.

The complete Schneider Electric range includes:

a variety of cavity fixings
plugs
heavy-duty masonry anchors
cable clips and clamps
screws

Benefits

Cabling and fixing for demanding professionals

Cavity fixing range of products that are installed without special tools in a variety of board materials. High load values combine with fast installation.
Masonry anchor products suitable for heavier installations.
The TPH GREPI high performance plug works very well in softer materials like aerated concrete or brick.
The innovative Cable Wings are developed for both cable and conduit installations. For quick and adaptable installations

Applications

The range consists of professional products for light, medium and heavy installations in indoor and outdoor applications. The products are suitable in base materials like wood, plasterboard, aerated concrete, concrete, brick and sheet metal.