iC60 RCBO
Residual current circuit breaker with integrated overcurrent protection
Single and double pole RCBO, 6kA to 10kA in both 110V and 240V with 10mA to 100mA sensitivity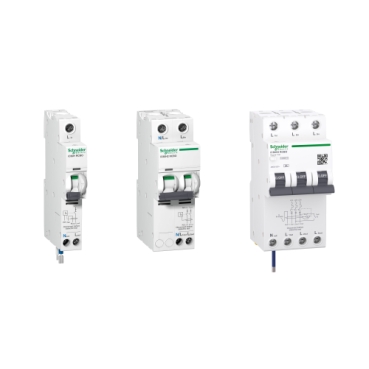 Features

Acti 9 iC60 RCBO's (residual-current circuit breaker with overload protection) provides final circuit protection against:

short circuits and cable overloads
electrocution by direct and/or indirect contact depending on sensitivity rating.

Benefits

VisiTrip: Fault tripping is indicated by a red mechanical indicator on the front face

VisiSafe: Contacts open and close position is indicated by a green mechanical indicator which is independent from the toggle.

Remote indication of open, close and tripped status is possible by optional auxiliary contacts and tripping releases.

Increased product service life is achieved thanks to fast closing contacts independent of the speed of the toggle.