Somic Group: Customer Story Key Figures
2x the output in ½ the space
40% energy management savings
1,400 coffee capsules – or 140 cartons – processed in 60 seconds
Business models for smart machines
New business models offered by Industry 4.0 open up unique opportunities for differentiation as well as greater operational efficiencies for OEMs.
Building smart machines for smart packaging

By integrating EcoStruxure Machine solutions, innovative machine builder SOMIC delivers smart, high-performance packaging systems that provide twice the output with half the footprint.
Discover EcoStruxure
Learn how your business can achieve success with EcoStruxure: Innovation at Every Level.
• In the competitive packaging market, SOMIC sought to reduce costs and time to react on customer requirements, as well as improve its service business.

• They wanted to meet market requirements for innovative, intelligent, and smarter machines by building the most compact and high-performance solutions possible, almost cabinet-less, that incorporate preventive maintenance with an augmented reality interface.

• Because their customers are looking for reliability, production security, and the high availability in machines, these are also priorities for SOMIC, all while delivering compact technology.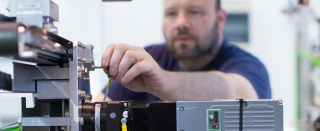 Agility, performance, and high availability with Ecostruxure Machine

Apps, Analytics & Services: EcoStruxure Augmented Operator Advisor
Edge Control: PacDrive LMC Pro, EcoStruxure Machine Expert, Harmony Edge Box and industrial PC
Connected products: Lexium servo drives

When SOMIC set out to build its high-performance coffee capsule packaging machine with 76 motion axes, they designed and engineered the machine without so much as lifting a screwdriver. Instead, they used a digital twin which simulated the real performance of the machine. A smart Schneider Electric controller and EcoStruxure Machine Expert allowed them to work virtually for added flexibility.

For safe and speedy machine diagnosis and maintenance, SOMIC uses EcoStruxure Augmented Operator Advisor, Schneider Electric's augmented reality application. It saves time by enabling operators to open the machine's cabinet doors virtually, using a mobile tool, rather than having to do it manually. They can also identify and resolve issues virtually, without having to physically work on dangerous machines.
Half the size and double the output: Schneider Electric's EcoStruxure Machine enabled SOMIC to achieve maximum performance from their coffee capsule packaging machine, doubling its output with half the footprint. It is the most compact and fastest machine of its kind, able to process 1,400 coffee capsules – or 140 cartons – per minute.

Smart machines for smart manufacturing: Integrating Schneider Electric's EcoStruxure Machine solutions, SOMIC's high-performance coffee capsule packaging machine offers its customers: 
• 40% energy management savings
• The highest output on a minimal footprint (almost cabinet-less)
• Best-in-class maintenance
• Continuous optimization during operation
• Short time to market

Using the augmented reality technology of EcoStruxure Augmented Operator Advisor, the machine cabinet can be opened virtually, helping to reduce downtime and improve service. By providing operators with fast, immediate access in the field to real-time data, manuals and diagrams, it also helps speed up machine operation and maintenance.
Patrick Bonetsmüller, CEO, SOMIC Group
Customer Testimonial
"Schneider Electric's EcoStruxure has enabled us to achieve maximum performance in our machines."