Discover Villaya Emergency
The increase in humanitarian emergencies calls for mobile, clean, reliable and affordable energy access solutions. Up until now, relief operations have had to rely on fossil fuel energy, renowned for being dirty, expensive, noisy, difficult to transport and dangerous for health and safety. Schneider Electric thus developed Villaya Emergency, a solar microgrid solution ready for use in any situation.
Access to Energy: Success Stories
Energy for remote schools in Kenya
Schneider Electric brings Access to Energy for 45,000 primary school pupils all across Kenya.
Schneider Electric and Power for All work towards achieving universal energy access
At Schneider Electric, we consider access to energy as a basic human right. Schneider Electric works towards achieving universal energy access by ensuring access to affordable, reliable, sustainable and modern energy for all.
Schneider Electric and GVE commit to provide Access to Energy in West Africa
With the support of Schneider Electric, GVE provides access to energy solutions in Nigeria and wider West Africa area.
Schneider Electric and HCL committed to improve lives in India
Following our belief that access to energy is a basic human right, we partner with HCL to improve lives by facilitating access to reliable, sustainable and safe electricity.
Find products and
solutions
Solar Water Pumping System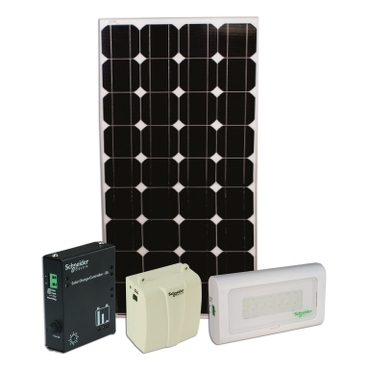 Solar Home System Components
Portable Grid Lighting