TeSys GF
Modular impulse relays for lighting or heating control with a 16A rating.
Contactor & Control Relays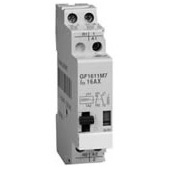 Features

Meeting the very strict requirements of the IEC/EN 61095 standard they are eminently suitable for use in commercial premises, hospitals and the home where control of lighting or heating is needed.

Standard 17.5mm modular construction with pulse on/pulse off operation
Rated for AC7a heating loads up to 3.6kW
1, 2, pole relays with N/O and N/C pole version having 16A thermal rating
Suitable for all normal lighting types up to 1600W depending upon type
Low noise in operation
Visible contact state indication

Applications

These relays have multiple applications in industrial, agricultural and commercial premises as well as hospitals and the home where switching of a specific lighting supply is required.