Sanwa Group: Customer Story Key Figures
Freed-up manpower are trained for more valuable positions
Transformed into fully automated production cells
Gained visibility and insights to reduce cost
Digitization in manufacturing
Discover how to remain competitive and improve business growth amidst rising operational costs and limited labor numbers with digitization.
Drive business with digitization

Take a look at how Sanwa Group digitalize their factories with Ecostruxure solutions. Empowered with live data and insights across their operations.
Discover EcoStruxure
Learn how your business can achieve success with EcoStruxure: Innovation at Every Level.
• Enhancing competitiveness and growth
• Need for traceability and transparency
• Data insights to identify areas for improvement
Apps Analytics and Services: EcoStruxure Machine Advisor, EcoStruxure Augmented Operator Advisor
Connected Products: Compact NSX, Harmony Wireless Pushbuttons, Harmony Web Terminal, Harmony Hub, Power Tag

• Remote monitoring capabilities of energy consumption to individual machines
• Wireless gateway for comprehensive IoT coverage of data monitoring such as temperature, humidity and pressure
• Centralized command station to remotely manage operations
• Access to real-time data for high-level analysis to boost efficiency
• Significantly improve productivity with fully automated production cells
• Monitoring of electrical consumption to further reduce the cost per unit of output
• Improve business performance based on analysis of accumulated statistics and data
Digitization is the only way to enable us to sustain our business…
Ricky Souw, Chief Executive Officer for Sanwa Group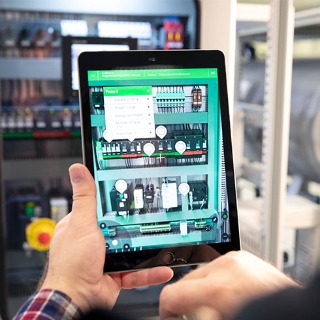 Industrial Automation
Software
Discover EcoStruxure
Learn how your business can achieve success too.
Latest Events
Explore the latest events happening here exclusively in Singapore
Chat
Do you have questions or need assistance? We're here to help!