Thorsman Installation System
Solutions for electrical distribution in office applications
Installation system solutions for office and hospitals including trunking, poles, post, floor installation.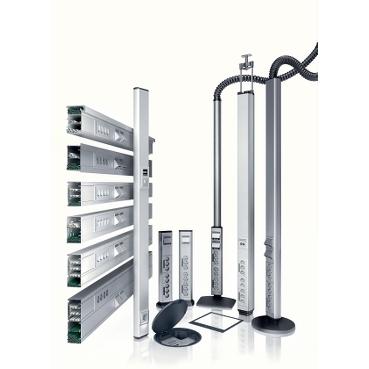 Features

Thorsman Installation System

is part of the Thorsman Cable Management System, which also includes

Thorsman Installation Material

.

Installation trunking systems in plastic, aluminium and steel. Single, double compartment for efficient distribution of power, data and control network cables.
Floor boxes – Floor boxes in plastic or metal .
Poles and posts – Pre-wired or standard configuration.
Desk units – Pre-wired deskunits for conference rooms or workplaces.
Wiring devices for power, data & control, dedicated for 80 mm front opening.

Materials and colours:

Trunking: PVC, PC/ABS, Aluminium (anodised or powder coated) and Steel (zinc coated, unpainted or powder coated)
Poles and posts: Aluminium (anodised or powder coated).
Floor boxes: Plastic or stainless steel.
Desk units: Aluminium (anodised).

Benefits

Thorsman Installation System offers flexible connectivity for the end-user:

Complete solutions for electrical distribution and network connectivity in buildings and industrial facilities.
Simple installations and design to fit all new buildings as well as refurbishment projects in wall, ceiling and floor-based applications.
Solutions for flexible and future-proof electrical installations that meet the requirements of all installers and end-users, for easy and fast adaptation of building layouts.
Flexible access to power, network connectivity and control in open office applications which improves employer productivity and comfort.
Aesthetic design, high-quality materials and several color options give optimal match with the office environment.
Pre-wired products to reduce building-time, improve quality and to meet the customer requirements for configured connectivity of power, data and control.

Applications

Thorsman Installation system is designed for electrical distribution in modern offices including solutions for wall, ceiling and floor installation. It meets the installation rules and habits in Northern Europe.