Linergy HK
Hot plug pre-assembled busbar systems up to 160 A for upgradable and flexible panels
Simple and quick installation system for distribution and control products. These pre-assembled busbar systems connect products up to 50 A max each.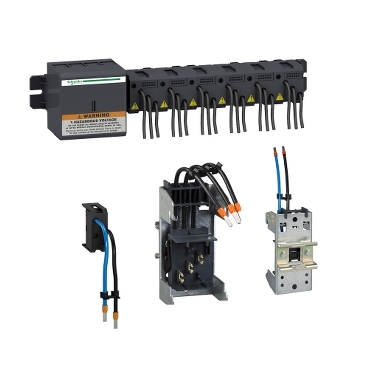 Features

The Linergy HK offer is designed to be used inside functional and universal switchboards. All Linergy distribution and connection systems have been designed and tested to work together and with all Schneider Electric devices.

Specifications

Hot plug connection system up to 160 A. A multi-standard pre-assembled system that allows "under-live circuit" connections
Power socket or mounting plate availability to connect circuit breaker and contactor
4 versions are available: 1-phase + neutral, 2-phase, 3-phase, 3-phase + neutral, 3-phase + common
The busbars are available in 6 different lengths: 344, 452, 560, 668, 992, and 1100 mm

Benefits

Panel easily upgradable
Reliable "hot plug" modification or upgrade
Multi-standard system of up to 160 A
Compactness with mounting plate version

Applications

Designed to be used inside universal and functional switchboards:

Spacial enclosures SF, SM…
Spacial SFP cubicles up to 4000 A
Thalassa enclosures
Prisma P, PH cubicles up to 4000 A
Prisma G floor standing and wall mounted enclosures up to 630 A
Prisma Pack enclosures up to 160 A

When using within Prisma or Spacial SFP, you also benefit from IEC 61439-1&2 tested solutions.