iRTA, iRTB, iRTC, iRTH, iRTL, iRTMF, iRBN, iRTBT, iRLI, iERL, iRCP, iRCI, iRCU, iRCC
Relays for final distribution swtichboards
Tiime delay, inversion, threshold values, analog signal levels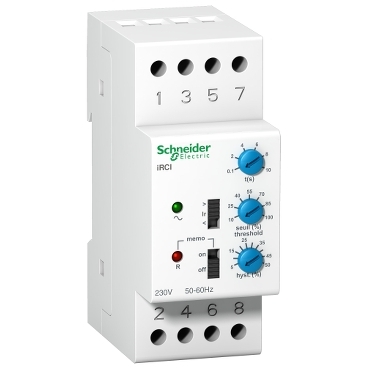 Features

Time delay relays :

iRTA : Delays energizing of aload
iRTB : Delays de-energizing of a load upon contact closing
iRTC : Delays de-energizing of a load upon contact opening
iRTH : Delays de-energizing of a load
iRTL : Repeated energizings and de-energizings of a load (flasher)
iRTMF : Performs ether of iRTA, iRTB, iRTC, iRTH functions

Interface relays

iRBN : LV input, low-level output
iRTBT : low-level input, LV output

Control relays

iRCI : current threshold
iRCU : voltage threshold
iRCP : phase threshold (motor monitoring)
iRCC : detection of power cuts and voltage dips (compressor monitoring)

Changeover relay : iRLI

Benefits

The efficiency you deserve
Acti 9 is a DIN rail switchgear system that combines efficiency with safety to ensure maximum safety for you, your customers and their installations.
Acti 9 is packed full of innovations. Acti 9benefits from Schneider Electric's more than 40 years experience.
Acti 9 covers all applications, especially polluted environments and networks with absolute safety and improved continuity of service.
Acti 9 is easy to choose, thanks to its meaningful part numbers.
Acti 9 is easy to install and environmentally friendly. Its components are 100% recyclable and recoverable.