What is a micro data center?
Micro data centers help address the challenges of moving more IT onto the factory floor, enabling IIoT applications and the convergence of IT/OT. EcoStruxureTM Micro Data Center solutions are configurable, pre-integrated enclosed rack systems including power, cooling, security, and monitoring, offering a fast, simple way to deploy and manage edge computing infrastructure in any environment.
New Rugged Micro Data Centers

Check out this 1-minute video to see how our newest NEMA 12 and IP 55/66 rated R-series models protect against dust, moisture, and temperature changes in harsh environments like distribution centers and factory floors

Watch how EcoStruxure Micro Data Centers work

From low-profile, wall-mount to larger, floor-standing and ruggedized models, EcoStruxure Micro Data Centers are suitable for industrial spaces not purpose-built for IT.
New NEMA and IP rated models
Our sealed NEMA and IP rated models protect your IT and OT and are perfect for harsh indoor environments.
Download brochure
Industrial edge computing for systems integrators
As Industry 4.0 takes hold, are you prepared to be your customers' IT/OT consultant?
Find out how
Select your micro data center by environment
Choose your micro data center series based on where it is going and its potential exposure to dust, moisture, and temperature changes.
S-Series models
Perforated for controlled environments where security and climate are tightly regulated.
C-Series models
Contained for semi-controlled environments where protection from dust, climate and security threats is essential.
R-Series models
Sealed for uncontrolled environments where protection from dust, moisture, climate and security threats is critical.
3 flexible management options
Let us monitor and service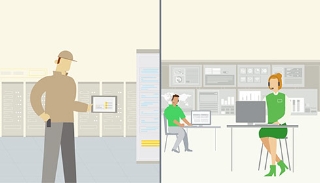 Let a partner manage
Ask your trusted partner for more information.
See designs with partners
Industry 4.0 designs

Edge computing designs

EcoStruxure reference designs
We collaborate with leading IT players and Aveva to create micro data centers made for industry 4.0 and IIoT. Take a look and imagine what we can do for you.
Get a glimpse into micro data center solutions we build together with our IT Alliances. Imagine what we can do for you.
See Micro Data Centers in 3D
Chat
Do you have questions or need assistance? We're here to help!