P14x
Feeder Management Relays
-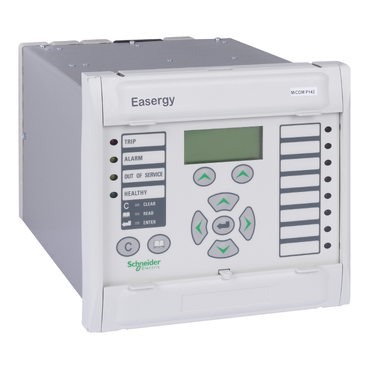 Features

MiCOM P14x feeder management relays provide an integrated solution for the complete protection, control and monitoring of overhead lines and underground cables, covering distribution and transmission voltage levels.

Providing all essential information to efficiently maintain complex power systems and their components, the MiCOM P14x relay family is user-friendly and highly flexible, allowing application on any network.

Multiple auxiliary functions and flexible applications

This range offers multiple auxiliary functions that provide the user with sufficient information to efficiently maintain the power system and its components including circuit breakers, CTs and VTs.

The multi-lingual user interface and programmable graphical scheme logic makes it easy to customize and allows for simple, flexible applications on any network. In addition, these relays may be connected to most Digital Control or SCADA systems due to their updated communication protocol and interface choices which includes the latest IEC61850 requirements.

User-friendly, efficient power systems management

Each relay of the MiCOM P14x range is equipped with 1A & 5A software settings. Multiple communication protocols and interfacing options, and a multi-lingual user interface make it easy for users to customize the menu text.