Wiser Air Smart Thermostat
Wiser Air Smart Thermostat, the home energy management solution
Wiser Air Smart Thermostat is designed to simplify energy management for homeowners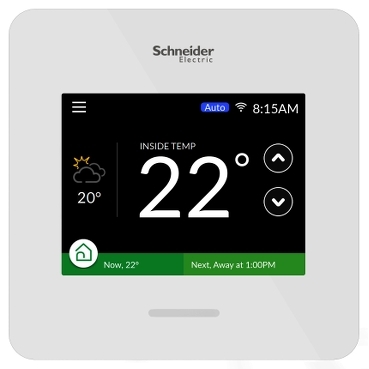 Features

The Wiser Air thinking thermostat is more than just a complete home energy management solution. It's a head-turning habit-learning money-saving command centre that puts you in control of your comfort from any wall and any device. So, make yourself comfortable. Incredibly brilliantly perfectly comfortable.

Its brain makes it smarter. Its mind makes it Wiser. Some say the Wiser Air thinking thermostat is a highly intelligent energy management command centre that seamlessly integrates into your home and your devices. Okay, only we say that, but still. After all, Wiser Air learns what you like, puts you in control of your comfort, and does it all while saving energy and money. That's not just smarter. It's Wiser.

Introducing Wiser Air, the Wi-Fi Smart Thermostat, made Wiser.

The Wiser way to save energy.

"This is not just one part of our business; this is all our business. This is who we are." - Yann Kulp, Wiser Air/Schneider Electric

Benefits

Embrace your inner control freak. Whether it's from your wall, telephone, laptop or tablet, Wiser Air puts you in control of your comfort. Just the way you like it.
You may find yourself bonding with it. Wiser Air learns your habits so it can deliver the comfort you need, even without asking.
It's smart. It's gorgeous. It's smorgeous. With its minimalist design and intuitive touchscreen interface, you won't know whether to set it or stare at it.
Even keeps you comfortable when it's off. The more it learns, the more efficient it runs. So, no more wasted energy and no more wasted money.