TeSys

GV7 Manual Motor Protectors
Motor control and protection in accordance with standards IEC 947-2 and IEC 947-4-1
End of Commercialization
Part of TeSys
An ingenious alliance of electronic and electromechanical technology, the model GV7 range of motor circuit-breakers provides more effective protection, ideal for top-of the-range applications.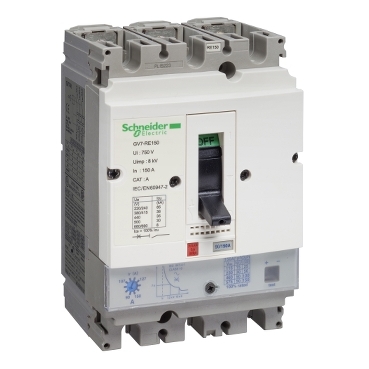 Features

- UL 508 Listed, CSA Certified, and CE Marked to meet global needs
- UL Listed for Group Motor Applications in accordance with NEC 430-53 & CEC
- Motor control and protection in accordance with standards IEC 947-2 and IEC 947-4-1
- Rocker lever control
- models: GV7-RE, GV7-RS
- 8 ratings to suit unique needs
- Optional door-mounted control
- The magnetic trip setting is 13 x the full load ampere setting
- Rated current with 600V: 12 - 220 A
- Box lug connectors
- Class 10, solid state overload relay
- Single phase sensitivity
- Magnetic instantaneous short-circuit protection
- Test trip mechanism
- Provision for padlocking in the OFF position requires attachment of rotary handle for GV7
- Fingersafe terminals (meets IP20 standards)
- North American and European terminal markings

Benefits

The GV7 is UL listed as Manual Motor Controller. It provides control and protection for motors with full load currents up to 220A

Applications

Industry, infrastructures, buildings:
Used for motor control and protection, complying with UL, CSA , IEC 947-2 and IEC 947-4-1 standards.