Type M and T Integral Horsepower Starters
2510 / 2511 / 2512 NEMA sizes M0 - M1
Type M and T Integral Horsepower Starters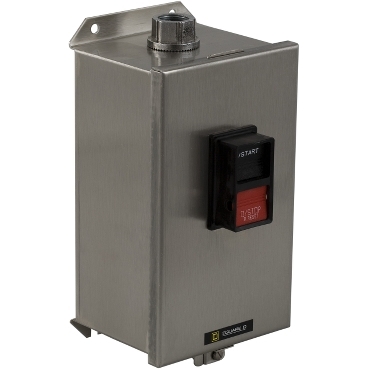 Features

Available in NEMA Sizes M-0, M-1, and M-1P

Poles
· AC: Two poles single phase; three poles polyphase
· DC: 2 poles (without Low Voltage Protection only)
· 600 Vac and 250 Vdc maximum

Melting alloy thermal overload relays have provisions for one Type B thermal unit for single phase starters and three Type B thermal units for three phase starters (All thermal units must be installed and the device reset before the starter contacts will operate)

Operator
· Push button or toggle operator in open and NEMA Type 1
· Direct-acting push button only on NEMA Types 4 and 12
· External toggle to actuate a push button device inside on NEMA Types 4X, 7 & 9
Convenient mechanism Lock Off
· Available on Both open devices and starters in NEMA Type 1 (surface/flush mounting)
· Locked in Off or Stop position
· NEMA Types 4, 4X, 7 & 9, and 12 enclosures locked closed to prevent unauthorized entry

NEMA Type 1 surface mounting, 4, 4X, 7 & 9 and 12 enclosures
· Power terminals have pressure wire or box lug. Auxiliary interlock terminals have pressure wire
· Auxiliary contacts N.O. or N.C. for AC loads only
· Red pilot light kits are available for use on various voltages between 100 and 600 V for convenience

Reversing manual starters consist of two mechanically interlocked Type M or T manual starters.
· Available in NEMA Type 1 surface-mounting enclosures or as open type
Two-speed manual starters are for wye-connected separate winding motors only.
· Consist of two mechanically interlocked Type M or T manual starters
· Available with or without low voltage protection in NEMA Type 1 enclosures or open type

Meets UL and CSA requirements


Benefits

Types M and T integral horsepower manual starters provide convenient "On-Off" operation of small single phase, polyphase, or DC motors. They feature push button or toggle operators and reliable overload protection. Pilot lights and auxiliary contacts are available.

Applications

Typical applications include small machine tools, pumps, fans, and conveyors.