O&G producers have complex and intensive data processes. To stay profitable in the face of changing trends, policies and guidelines, you must ensure proper management of these data processes so everyone has the right access to relevant information.

Specification Sheet
Wonderware Intelligence: Turning Industrial Big Data into actionable information.
Read now
Production Management is the reliable and timely information required for vital operational decisions on offshore platforms and FPSO, providing a simulated window into the production system. This integrated application combines both flow assurance and topside process models. Combined with topside plant operations, production management allows production operations personnel to anticipate upcoming production events and adjust operating strategies.

White paper
See our real-time performance-based software solution in Creating a Competitive Advantage through Integrated Upstream Asset Management.
Schneider Electric Offshore Energy Management Solutions are focused on the planning and operation of electrical energy production and power energy distribution among electrical loads. The objective is to protect people and equipment while assuring electrical power availability for processes and ensuring emergency power management.

Customer Case
Centralized and efficient production operation management for a leading oil exploration and production entity in Ecuador.
Proper management of fixed assets for offshore production ensures optimization of lifetime and minimization of downtime for physical assets in the oil field: motors, pumps, compressors etc. It includes preventive maintenance and forecasting failures.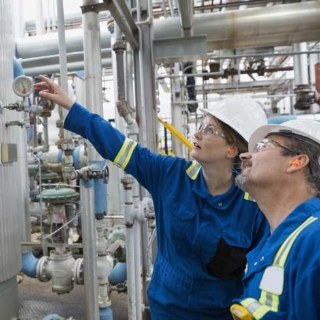 Brochure
Avantis® PRiSM is a predictive asset analytics solution that can provide early warning notification and diagnosis of equipment issues days, weeks or months before failure.
Learn more
Brochure
Avantis® Condition Manager® is a unique, intelligent, real-time condition management solution that collects and analyzes real-time diagnostics from all plant production assets.
Explore the offer
With the rise of the offshore digital oil field, the oil and gas industry is gathering more data, more often, at every stage of the business lifecycle. Well Management and Analytics enables oil and gas companies to create a single, accurate view of well data that is consistent and unified across systems and business processes.

Documents and Downloads
Browse the Technical Library to find data sheets, production specifications and more.
Customer Care App
Download mySchneider app and get support on the go- anytime, anywhere. Get it today!