Smarter Financial Data Centres
Banks and financial institutions safeguard customer information in both cloud and on-premise data centres, as well as on trading floors and in branch operations. Data centres and critical infrastructure must be reliable, secure and available to successfully deliver internal IT services and digital banking services.

White Paper
Cost-Saving and Efficiency: Preventative Maintenance Strategy for Data Centres
View white paper
White Paper
Addressing Cyber Security Concerns of Data Centre Remote Monitoring Platforms
View white paper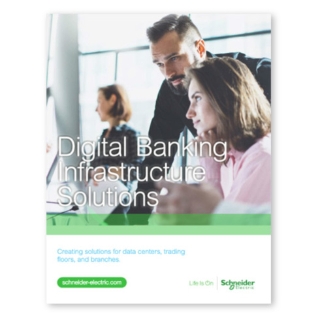 Digital Brochure
Infrastructure Solutions for Data Centres, Trading Floors and Bank Branches
Read post
Prefabricated Modules and Micro Data Centres
Prefabricated power, cooling, IT, and all-in-one modules simplify the way data centres are built and retrofitted for digital banking, to ensure standardised performance at a fair cost. These flexible modules minimise or eliminate single points of failure, and offer tested, validated and documented reliability.

Data Centre Operational Efficiency
Data centres cause significant energy consumption for financial enterprises. Controlling energy usage with Data Centre Infrastructure Management software and Data Centre Life Cycle services ensures efficiency, insights, tools and assurance to operate the data centre at peak efficiency with minimal risk.

Customer Testimonial
Busan Bank Korea to Save up to 600 Million KRW with Struxureware Software
Read testimonial
Frequently Asked Questions
Access our knowledge base to get answers to more than 100,000 questions.
Documents and Downloads
View our technical library to find data sheets, production specs, and more.
Mobile Customer Care App
Download our mobile app and get support on the go -- anytime, anywhere.
Chat
Do you have questions or need assistance? We're here to help!