Double Throw Safety Switches
Designed to be tough, reliable and provide exceptional performance in the most grueling conditions.
Provide emergency back up power connections in accordance with Article 702 of the National Electrical Code, ANSI/NFPA 70. They also have the capability of switching two loads between one power sources. Plays 3 crucial roles in today's commercial and industrial settings: 1) isolate power in daily activities 2) provide an effective way to interrupt power in an emergency and 3) provide lockout in sight disconnect.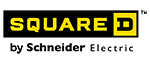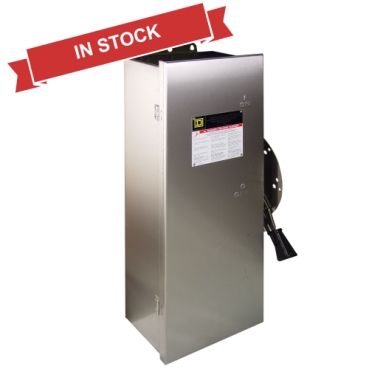 Language
Format
Size
Date
Catalog
Digest 178 Catalog 03: Safety Switches (Version 1.0)

Description

Digest Catalog Section 3 - This section of Digest 178 includes selection information for light duty safety switches, general duty safety switches, heavy duty safety switches, double throw safety switches and photovoltaic disconnect switches. Replaces Digest 177 section 3; 0100CT1501_SEC-03

English
pdf
1.4 MB
9/13/19
View online

Description

Digest Catalog Section 3 - This section of Digest 178 includes selection information for light duty safety switches, general duty safety switches, heavy duty safety switches, double throw safety switches and photovoltaic disconnect switches. Replaces Digest 177 section 3; 0100CT1501_SEC-03

Square D Enclosed Safety Switches Catalog (Version 1.1)

Description

This Square D™ product catalog provides selection information for general duty safety switches, heavy duty safety switches, and double throw safety switches. This catalog replaces document number 3100CT0901. Includes information on safety switch enclosures, configurations, construction standards, safety switch ratings, and dimension drawings, and also covers many safety switch accessories. Safety Switch accessories such as Class R and J fuse kits, fuse puller kits, equipment ground/grounding kits, interlock kits, lug kits, lock-on and lock-off kits, hubs, solid neutral assemblies, viewing window, key interlock kit, switch lubricant, and phenolic legend plates.

English
pdf
5.5 MB
8/13/19

Description

This Square D™ product catalog provides selection information for general duty safety switches, heavy duty safety switches, and double throw safety switches. This catalog replaces document number 3100CT0901. Includes information on safety switch enclosures, configurations, construction standards, safety switch ratings, and dimension drawings, and also covers many safety switch accessories. Safety Switch accessories such as Class R and J fuse kits, fuse puller kits, equipment ground/grounding kits, interlock kits, lug kits, lock-on and lock-off kits, hubs, solid neutral assemblies, viewing window, key interlock kit, switch lubricant, and phenolic legend plates.

Data Bulletin
Corner-Grounded Delta (Grounded B Phase) Systems (Version 1.1)

Description

This document outlines the background of the corner-grounded delta systems and lists the equipment rated for use on these systems.

English
pdf
178.1 KB
8/21/10

Description

This document outlines the background of the corner-grounded delta systems and lists the equipment rated for use on these systems.

CAD
2 POLE DOUBLE THROW SAFE1Y SWITCHES 400 AMP (Version 1.1)

Files in document

Description

2D Drawings for DTU225 and DTU225R

English
zip
888.2 KB
10/25/19

Files in document

Description

2D Drawings for DTU225 and DTU225R

3 POLE DOUBLE THROW SAFE1Y SWITCHES 400 AMP (Version 1.1)

Files in document

Description

2D Drawings for DTU325, DTU325R, DTU365, DTU365R, DTU365AWK, and DTU365DS

English
zip
935 KB
10/25/19

Files in document

Description

2D Drawings for DTU325, DTU325R, DTU365, DTU365R, DTU365AWK, and DTU365DS

DOUBLE THROW SAFETY SWITCHES (Version 1.1)

Files in document

Description

2D CAD DRAWING FOR: CH82344

English
zip
2.7 MB
11/12/18

Files in document

Description

2D CAD DRAWING FOR: CH82344

2D CAD: Double Throw Safety Switch, 200A, NEMA Type 4, 4X, 5, 12 Stainless Steel (Version 1.2)

Files in document

Description

2D CAD drawing for 82444DS. Includes basic dimensions, wiring diagrams (fusible and non-fusible), terminal lug data, voltage ratings, horsepower (hp) ratings, and knockout details. Safety disconnect switch CAD files available in PDF, DWG, DXF, and DWF formats.

English
zip
600.5 KB
9/8/11

Files in document

Description

2D CAD drawing for 82444DS. Includes basic dimensions, wiring diagrams (fusible and non-fusible), terminal lug data, voltage ratings, horsepower (hp) ratings, and knockout details. Safety disconnect switch CAD files available in PDF, DWG, DXF, and DWF formats.

2D CAD: Double Throw Safety Switch, 400A, NEMA Type 4, 4X, 5 Industrial (Version 1.2)

Files in document

Description

2D CAD drawing for 82345DS. Includes basic dimensions, wiring diagrams (fusible and non-fusible), terminal lug data, voltage ratings, horsepower (hp) ratings, and knockout details. Safety disconnect switch CAD files available in PDF, DWG, DXF, and DWF formats.

English
zip
744.7 KB
3/16/09

Files in document

Description

2D CAD drawing for 82345DS. Includes basic dimensions, wiring diagrams (fusible and non-fusible), terminal lug data, voltage ratings, horsepower (hp) ratings, and knockout details. Safety disconnect switch CAD files available in PDF, DWG, DXF, and DWF formats.

2D CAD: Double Throw Safety Switch, 200A, NEMA Type 1, General Purpose (Version 1.2)

Files in document

Description

2D CAD drawing for 82454. Includes basic dimensions, wiring diagrams (fusible and non-fusible), terminal lug data, voltage ratings, horsepower (hp) ratings, and knockout details. Safety disconnect switch CAD files available in PDF, DWG, DXF, and DWF formats.

English
zip
631.8 KB
1/23/07

Files in document

Description

2D CAD drawing for 82454. Includes basic dimensions, wiring diagrams (fusible and non-fusible), terminal lug data, voltage ratings, horsepower (hp) ratings, and knockout details. Safety disconnect switch CAD files available in PDF, DWG, DXF, and DWF formats.

2D CAD: Double Throw Safety Switch, 200A, NEMA Type 3R, Rainproof (Version 1.2)

Files in document

Description

2D CAD drawing for 82454R. Includes basic dimensions, wiring diagrams (fusible and non-fusible), terminal lug data, voltage ratings, horsepower (hp) ratings, and knockout details. Safety disconnect switch CAD files available in PDF, DWG, DXF, and DWF formats.

English
zip
676.7 KB
1/23/07

Files in document

Description

2D CAD drawing for 82454R. Includes basic dimensions, wiring diagrams (fusible and non-fusible), terminal lug data, voltage ratings, horsepower (hp) ratings, and knockout details. Safety disconnect switch CAD files available in PDF, DWG, DXF, and DWF formats.

See More Documents

| | | | | |
| --- | --- | --- | --- | --- |
| | Language | Format | Size | Date |