Modicon

OTB
IP20 optimum modular I/O system, for simple machines (up to 248 I/Os)
Part of Modicon
Simply optimum!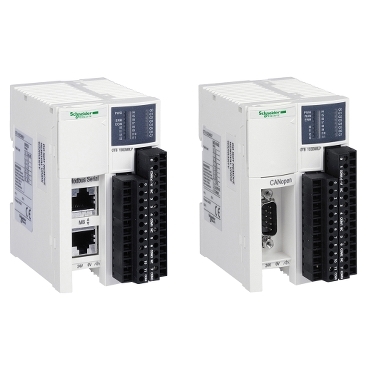 Features

Optimum solution for cost, function, size and simplicity challenges

3 communication base modules: CANopen, Modbus and Ethernet, each with directly integrated 20 I/Os
expandable using 8 to 32- channel I/O modules (up to 264 channels)
a wide range of I/O expansions (common to Twido programmable controllers, Modicon M238 logic controllers, Magelis XBTGC HMI controllers) for minimizing the number of references

Simple installation

ideal compactness: 20 I/Os within a width of 55mm, including bus connection
sensor /actuator connections using removable screw terminals
direct mounting on DIN rail

Save engineering time

Fully integrated in SoMachine software (software suite for Modicon M238 / Magelis XBTGC / Altivar IMC…)
Integrated in TwidoSuite (software for Twido)

The Modicon OTB (IP20) I/O system enhances the "Flexible Machine Control" concept.

Benefits

Simply optimum!

Designed for simple and compact machines, this economic modular IO system enables the creation of separate groups of industrial I/Os, each positioned as near to the machine as possible, managed by a master controller (PLC, HMI or variable speed drive) via a fieldbus or communication network. Simple to select and install, Modicon OTB modular IO system reduces your cabling costs.