Thalassa PLA
Polyester floor-standing enclosures
Thalassa PLA polyester floor-standing enclosures are suited for the energy distribution and control infrastructure industries.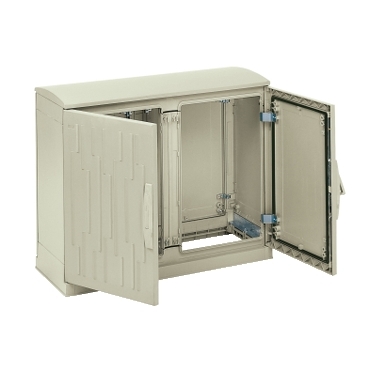 Features

FS polyester enclosures & accessories

Parts of the body, rear panels and doors are made from fiberglass reinforced polyester, molded by hot compression, RAL7032 colour. Same finish for all surfaces.
Bosses for fixation points are molded.
Four versions of enclosures :
- Totally closed, IP65.
- Open bottom and integrated plinth, IP54.
- Open upper part for ventilation, IP44.
- Open bottom and plinth, and open upper part for ventilation, IP44.
Accessory to upgrade IP44 to IP54.
40 dimensions from 500x500x320mm up to 1500x1250x420mm.
1 door, 500 and 750mm width, and 2 doors, 1000 and 1250mm width.
2 doors enclosures constructed with reinforcement central part.
3 types of panels or doors: plain, ribbed surface for anti-flyposting, glazed.
Lock or handle with locks, with 2 or 4 action points out of the protected volume.
Impact resistance: IK10 for plain and ribbed door version, IK08 for the glazed door.
Self- extinguishability: HB40 classified and 960º test withstanding.
Certification of compliance with IEC62208 enclosure standard.
UL/CUL certification.
Polyester plinth ZA 200 mm, stackable 2x200mm, for PLA enclosures, closed bottom versions
Polyester plinth ZZ 200 mm and 500 mm for PLA enclosures, open bottom versions

Schneider Electric selected a wide variety of spare parts for your enclosure. No matter if the enclosure is recently built or has several years, you can have the replacement parts you need.

Benefits

Floor-standing polyester enclosure

No electrical contact risks.
Suitable for indoor or outdoor use.
Resistant to harsh atmospheres.
Can be used in a large temperature range.
Easy to machine and the machining does not produce corrosion.
Halogen free.
Light weight gives an easy installation.
Long life lasting without maintenance.
Strong against shocks.
Version with canopy, for outdoor use, maintaining the quality of the seal.
Version with 65mm integrated plinth and open lower part for easy incoming of cables.
Large range of dimensions (40 dimensions !).
Choice of doors (plain, ribbed anti flyposting surface, glazed).
Several possibilities of installation (ground, on plinth, wall).
Coupling possibilities thanks to modular dimensions.
Locking system is out the protected volume.
Abroad number of composition accessories.
Mounting plates (metal or insulating material) or chassis for universal use or applications (VDI, modular distribution).
Customised service: color, machining, mounting accessories, change of locks, enhanced depth.
Combination of the 4 versions with the 3 types of door and rear door instead of panel.

Plinths ZM 200 mm

Protection against the rise of water - access - cable management

Applications

Energy distribution and Control in Energy Infrastructures, industry markets, installed indoor or outdoor, harsh conditions or environments and to avoid electrical risks.