Harmony

22 mm Metal XB4/ZB4 and Plastic XB5/ZB5 Push Buttons for Harsh Environments
Harmony

22 mm XB4/XB5 booted plastic and metal push buttons designed for harsh environments (IP69K rating)
Part of Harmony
Now you can use the Harmony 22 mm Push Button designed for harsh environments. This more rugged line has a boot that is a part of the button itself to add additional robustness to withstand against more corrosive environments. Rated up to IP69K, this button design can stand up to typical chemicals used in washdown applications as well as many outdoor environment.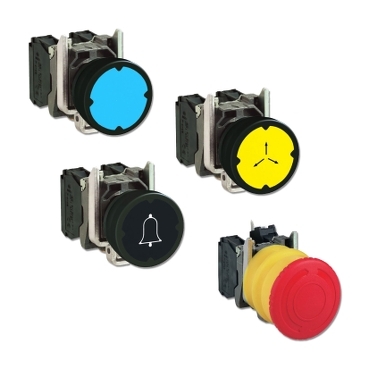 Features

A complete and consistent offer

Pushbuttons with silicon booted head and bellow and has larger actuation surface (37mm dia) for use with gloves.

With Emergency Stop button can add a protective yellow bellow. Selector switches and key switches can purchase protective boots separately. Purchase harsh push buttons as complete units or as components for user assembly. Same sub-assembly behind panel as standard metal XB4 or plastic XB5 push buttons. Can use screw clamp or spring clamp terminals connections. Use same accessories of the XB4/XB5 ranges: protective boots for heads and for contact blocks, protective guards

Rugged construction

Up to IP66, IP69K
Emergency stop devices conforming to EN/IEC 60204-1, to EN/ISO 13850 and Machinery Directive 2006/42/EC
UL and CE marked
Special contacts for low-power or high-power switching
Shakeproof connection screws (periodic retightening unnecessary)

One-hand installation

Mounting by a single ring nut (XB5) or triple point mounting collar (XB4)

Benefits

Harsh environment

Rugged construction and excellent operation in wet or dirty environments
Clear and permanent marking on head , customizable to customer needs
Simple and consistent offer that complements existing 22 mm push button offer for harsh environment and uses standard Harmony XB4/XB5 contact blocks and mounting collars

Applications

Perfectly adapted to outdoor applications, Harmony XB4/XB5 Harsh environment meets the needs for applications in Industrial vehicles, outdoor machinery, mining and marine.