Integrated Power Center 2
Free-standing front and rear aligned integrated equipment that reduces footprint and lowers on-site installation costs.
The newest addition to the family of Integrated Equipment products, the Integrated Power Center 2 (IPC2™) provides maximum flexibility to meet customers' specifications. Features include those found in the IPC and are provided in a free-standing enclosure that can be front and rear aligned when transformers are included. The IPC2 family is available as seismically-qualified.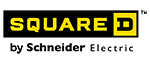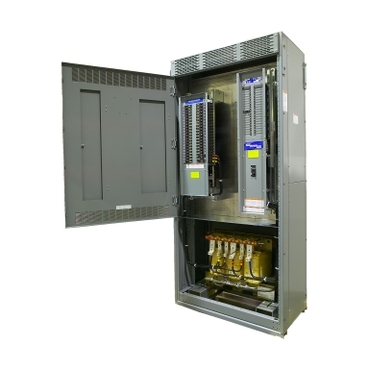 Features

Enclosure options include NEMA 1, NEMA 1 with drip hood and NEMA 3R. IPC2 sections are: 91.5 in (2324 mm) high, and vary in width and depth depending on customers specifications.

Square D® Integrated Equipment integrates electrical distribution and controls in a factory assembled and pre-wired solution. Integrated Power Center 2 (IPC2™) lineups can be applied throughout your facility wherever multiple panelboards, transformers and/or lighting contactors are located in close proximity.

Meets Applicable Codes and Standards – Equipment is designed and assembled to comply with applicable National Electrical Code (NEC) and UL requirements.
Prewired, factory assembled for faster installation
"Panels over Panels" configurations
"Panels over Transformer" configurations
Integrated automatic transfer switches
Freestanding construction that can be close-coupled to QED switchboards
Front- and rear-aligned sections, available in multiple widths
Available in NEMA 1, NEMA 1 with drip hood, and NEMA 3R construction
Powerlink lighting control solutions
PowerLogic power monitoring and control
Hinged panelboard wire gutter access door
Factory-installed power cables
Top and bottom conduit entry/exit space available
Available as a stand-alone solution or can be close-coupled to Square D: IPC2, IPC, Modular Panelboard System (MPS), QED Switchboards

IPC2 Transformer Combo

The IPC2 Transformer Combo section bundles panelboards, individually mounted circuit breakers or lighting contactors with a dry type transformer into one factory-assembled and prewired integrated solution. This flexible space saving offer will reduce electrical equipment space requirements by 50% or more and provide a solution with lower on-site installation costs. Typical applications for IPC2 Transformer Combo sections include office buildings, schools, healthcare facilities, banks, drug stores, restaurants, super markets, discount department stores and convenience stores.
Benefits of IPC2 Transformer Combo

Reduce Equipment Space – Panels are stacked above a transformer, saving valuable floor space.
Reduce Installation Time – Panels and transformer are factory assembled and cabled into a single enclosure, which means installation can take hours rather than days.
Reduced Material Cost – Wiring between the internal components of the section (ie: transformers, panels, individually mounted circuit breakers, contactors) is done at the factory, eliminating conduit, box connectors and the associated labor.
Reduced Material Handling – System requires fewer items to receive, inventory and install.
Equipment Standardization – Equipment layouts are identical when required so that personnel know how to operate the electrical equipment regardless of where it is installed.
Quality Construction – Electrical distribution equipment is factory assembled in a controlled factory environment, ensuring the highest quality standards are met.
Customized Options – Each section can be tailored to your requirements.
Meets Applicable Codes and Standards – Equipment is designed and assembled to comply with applicable National Electrical Code (NEC) and UL requirements.

How to Videos

Benefits

Minimized floor space. Since electrical panels and transformers are stacked in a modular lineup, valuable floor space and wall space are saved.
Lowered installed costs. Minimizes contractor labor risks due to reduced onsite installation requirements because panels, transformers and lighting controls are factory-installed and pre-wired.
Reduced Material Cost – Wiring between the internal components of the section (ie: transformers, panels, individually mounted circuit breakers, contactors) is done at the factory, eliminating conduit, box connectors and the associated labor.
Reduced material handling. There are fewer items to receive and inventory onsite since components are factory-installed and pre-wired into the integrated equipment.
Design consistency. Customer-specific designs can be standardized for multiple locations which optimizes installation team performance.
Shortened cycle times. Pre-assembled construction means less time required onsite to install, reducing the overall construction cycle.

Applications

Commercial Buildings
Industrial Buildings
Healthcare Facilities
Educational Campuses
Commercial Office Buildings